Youth for Nature- Wachau- Wienerwald Volunteers
Thema:
10: Environment protection
Work Types:
Umwelt / Arbeit mit den Händen
Anzahl an Freiwilligen:
12
Freie Plätze für Männer:
0
Freie Plätze für Frauen:
0
Free places last update:
21 Aug 2018
Mindestalter (internationale Freiwillige):
18 - 99
Mindestalter (Freiwillige national):
18 - 99
Geforderte Sprache:
Englisch
Optionale Sprache:
Englisch, Deutsch
Motivation letter:
This camp requires an additional motivation letter to explain in more detail why you would like to attend.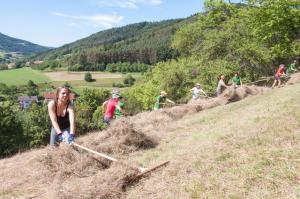 Beschreibung: The camp takes place at two different locations (small village in Wachau & Vienna Wienerwald) and is hosted by the SCI Austria, the national branch of a network of international volunteer exchange associations. The local partners are the management of the Biosphere Reserve Wienerwald and the association Welterbegemeinden Wachau which coordinates the interests of the local community.
Type of Work: Dry grasslands are a rare and endangered type of habitat in the Wachau valley and the Wienerwald. We will cut the grass, the bushes and trees and remove the biomass from the areas to hold back the succession. In the wetlands we will selectively remove invasive alien species to support the native flora. We are not only working for biodiversity, but also for the beauty of this unique landscape. This camp contributes to the Natura-2000 region.
Lernbereich: You will gather knowledge of the local habitats and their flora and fauna and the mandatory management, including the challenges faced. Furthermore you will gain hands-on experience in maintaining dry grasslands and managing invasive species.
Unterkunft: During our time in the Wachau we will stay in a local bed and breakfast, during your stay in the Biosphere Wienerwald you will be accommodated in a hostel in Hütteldorf (Vienna). Breakfast will always be provided at the accommodation. Lunch packages are provided by them as well. We will have dinner either at the bed and breakfast or local restaurants. In the Hostel we'll stay in four-bed rooms with either private or shared bathrooms. There is also free WIFI, a washing machine and a dryer. If you have any allergies or special food wishes (vegetarian, …), please let us know in advance!
Anforderungen: We will work four days a week from about 8 a.m. till 5 p.m. with breaks in between. We will be working about 6 hours per day – in steep terrain, on hot days, on rainy days etc. Therefore, some basic fitness is required and strong hiking boots. Before you sign up for this camp PLEASE make sure that you are healthy enough to participate. Also a small motivationletter is required.
Approximate Location: The Wachau is a stretch of the Danube Valley between Melk and Krems, a landscape of high visual quality. The Wienerwald is a wide range of wooded hills alternates with vast meadows, pastures and fruit orchards as well as vineyards and dry grasslands - the products from centuries of cultivation by humans.
Beschreibung der Organisation: SCI Austria is the Austrian branch of Service Civil International, founded in 1947 and based in Vienna. We are mainly volunteers who have been on international workcamps ourselves and who want to organize meaningful and critical projects in our country as well.