Renovation and Gardening at Waldorf School Schönau
Thema:
13: Community life
Work Types:
Restaurierung, Renovierung / Lernen, Diskutieren, Forschen
Anzahl an Freiwilligen:
10
Freie Plätze für Männer:
5
Freie Plätze für Frauen:
5
Free places last update:
19 Apr 2021
Mindestalter (internationale Freiwillige):
18 - 65
Mindestalter (Freiwillige national):
18 - 65
Geforderte Sprache:
Englisch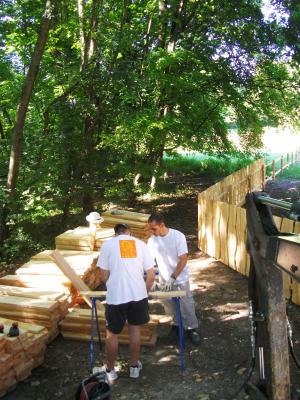 Beschreibung: During this camp, participants will help the local community in Schönau an der Triesing, lower Austria, by renovating and gardening at the Waldorfschool. Apart from supporting school renovation and gaining hands-on experience on gardening, you will have a chance to participate in workshops that will focus on civil society and civic participation both in totalitarian regimes and in contemporary times through non-formal activities such as interactive discussions, theater of the oppressed, activity games and visits.
Type of Work: Every summer a new part of the school building and the garden is renovated. This year the plan is to paint the classrooms, to do some gardening, wood work, other building and renovation tasks. No previous experience is required. Apart from school renovation there will be a study part activities focused on remembering the nonviolent civil resistance during the Nazi-fascism in Europe. We will have group discussions, reflections, interactive games, videos and documentaries about this theme.
Lernbereich: You will gain hands-on experience in gardening and renovation and gather knowledge of Waldorf pedagogy. Furthermore, this year you will reflect on nonviolent resistance against nazi violence in the past and examine new dangerous fascist tendencies in our societies nowadays. We set this study activity up to be a lot of fun, with a diverse range of methods, with movement and without formalities. We will have discussions, play games and watch documentaries.
Unterkunft: There will be a simple shared accommodation for the group. There are two sleeping rooms with mattresses - you will need to bring your sleeping bags. Volunteers will plan the menu together and cook for themselves and the partner organisation will provide the food.
Sprache: English
Anforderungen: No special requirements.
Approximate Location: The Workcamp will take place in the Waldorfschool that is situated just 30 km south of Vienna, in Schönau an der Triesing; a small village in the region of Lower Austria.
Notizen: At the school there is a lot of nature around and you will have the possibility to have a walk and relax in an old park. There's a beach volleyball, a basketball and football field on the school ground. Sometimes there are events at the Waldorf school. In the evenings there is the possibility of having a campfire in the school garden. Nearby the school there is a small river where it is possible to swim and in the town there is a big open swimming pool.
On the weekends there is the possibility to visit Vienna, Baden or to have a hike tour to the mountains – the costs for these excursions are not included in the workcamp and will depend on the initiative of the volunteers. It is up to the group what to do on weekends.
Beschreibung der Organisation: SCI Austria is the Austrian branch of Service Civil International, founded in 1947 and based in Vienna. We are mainly volunteers who have been on international workcamps ourselves and who want to organize meaningful and critical projects in our country as well.