Youth for Nature - Donau-Auen meets Thayatal National Park
Thema:
10: Environment protection
Anzahl an Freiwilligen:
14
Freie Plätze für Männer:
7
Freie Plätze für Frauen:
7
Free places last update:
19 Apr 2021
Mindestalter (internationale Freiwillige):
18 - 65
Mindestalter (Freiwillige national):
18 - 65
Geforderte Sprache:
Englisch
Motivation letter:
This camp requires an additional motivation letter to explain in more detail why you would like to attend.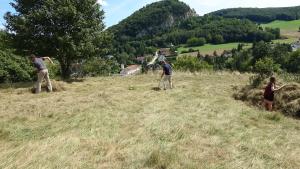 Beschreibung: The local partners, National Parks Thayatal and Donau- Auen oversee the protection and ecological development of their respective regions, with their particular biodiversity. Some areas in Thayatal and Donau-Auen need ongoing management to form sustainable habitats for rare species. Meadows and diverse dry grassland areas, need to be taken care of to preserve them and their ecosystem functions. The management of national parks lays great emphasis on environmental education and visitor management.
Type of Work: We will remove invasive plants to prevent irreversible anthropogenic effects on the ecosystem. Secondly, we will mow dry grassland areas and selectively remove bushes and small trees to prevent the forest from overgrowing these species-rich open habitats. We will also have time to get to know each other and enjoy the summer in Austria.
Lernbereich: You will gather knowledge of local habitats with their flora and fauna as well as their mandatory management, including the challenges faced. Furthermore, you will gain hands-on experience in maintaining dry grasslands and managing invasive species.
Unterkunft: At Thayatal National Park you will be staying in the recently built Wildcat Camp. The facility is equipped with bedrooms for up to 6 persons with bathrooms, a common room and kitchen. During time in Donau-Auen National Park we will stay at the Nationalpark-Camp Meierhof next to the castle of Eckartsau. We will sleep in big tents and therefore you will need a sleeping bag and perhaps a camping mat. In the camp there is also a house that contains common areas, kitchen, toilets and showers.
Anforderungen: We will work 4-5 days a week for six hours a day with breaks in between. The work will be physical and in steep terrain. Therefore, some basic fitness as well as solid ankle-high hiking boots are required. Before you sign up for this camp, PLEASE make sure that you are healthy enough to participate. Please send us a motivation letter and let us know the reason why you want to take part at the camp
Approximate Location: The conservation area of Thayatal National Park covers part of the Thaya Valley river landscape and is situated right at the border to Czech Republic. While cutting through the Bohemian Massif the river Thaya created an enormously diverse landscape along the river. The Donau-Auen National Park preserves the last remaining major wetlands environment in Central Europe and is situated between the European capital Vienna and Bratislava. Here, the Danube is still free flowing and there is the lifeline of the National Park.
Beschreibung der Organisation: SCI Austria is the Austrian branch of Service Civil International, founded in 1947 and based in Vienna. We are mainly volunteers who have been on international workcamps ourselves and who want to organize meaningful and critical projects in our country as well.