Youth for Nature-Donau-Auen-Thayatal
Topic:
10: Environment protection
Work Types:
Environment / Restoration, renovation
Free places for Females:
0
Free places last update:
18 Aug 2018
International age:
18 - 99
Required Language:
English
Spoken Language:
English, German
Motivation letter:
This camp requires an additional motivation letter to explain in more detail why you would like to attend.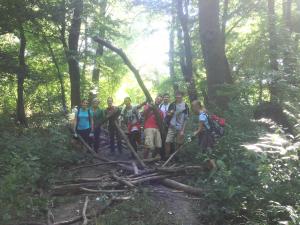 Description: The National Park Donau-Auen, established in 1996, preserves the largest floodplains in Central Europe. Its protection originates from a civil initiative against plans to build hydro power plants in the area. The area is a safe haven for nature and biodiversity inbetween two European capitals, Vienna and Bratislava. Among the animals living in the National Park are eagles, beavers, turtles and kingfishers. The volunteers will live and work in the National Park, will help the National Park in the maintenance of this environment and will experience it with their own senses.
Type of Work: Some of the tasks are physical work, such as removing invasive plant species (neophytes), collecting trash, reconstruction of walkingpaths, or construction of nesting boxes for bats or birds.
Study Theme: The participants will learn about the National Park and its biodiversity, both informally (via their work and collaboration with people from the National Park) and formally.
Accommodation: For the duration of the camp you will be staying in the National Park Camp Meierhof in Donau-Auen and in the newly built Wildcat Camp in Thayatal. The former is equipped with tents group rooms and bath and showers, the latter consists of 4-6 bed rooms with bathrooms group room and kitchen. Breakfast, lunch packages, and dinner will be provided, either in the camps, at the work site or in restaurants. If you have any allergies or special food wishes (vegetarian, …), please let us know in advance! Bring your sleepingbag and mat.
Requirements: Small letter of motivation is required. You should be at least 18 years old and in good physical shape
Approximate Location: The workcamp will be situated in different sites of the National Park. The best way to get to the Donau-Auen is from Vienna by metro and Bus or by Train and taxi. Furthermore, to improve your experience and help your recreation, you will be able to enjoy to best the two regions have to offer in your leisure time. Close to the Camp in Donau-Auen is Austrias capital with all its theaters, museums, sights, restaurants and bars. Close to the Thayatal is the beautiful wine city Retz with its sandstone cellars, aswell as a lake for swimming.
Notes: For more information about the area go to the website of the National Park: http://www.donauauen.at/ http://camps.donauauen.at/ http://www.np-thayatal.at/de/pages/projektwochen-25.aspx
Organization Description: SCI Austria is the Austrian branch of Service Civil International, founded in 1947 and based in Vienna. We are mainly volunteers who have been on international workcamps ourselves and who want to organize meaningful and critical projects in our country as well.