Topic:
12: Art, culture and local history
Work Types:
Festival / Manual
Number of places still available:
2
Free places last update:
12 Jun 2019
International age:
18 - 99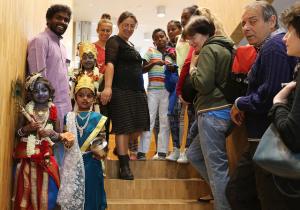 Description: "House of Religions - Dialogue of Cultures": 5 places of worship under the same roof: a mosque, a Hindu temple, an Alevi dergâh, a Buddhist center and a church. 3 other religious communities - Jews, Baha'i and Sikhs – are part of the association. The heart of the house is the dialogue area, which is dedicated to educational services, activities for families and young people, exhibitions, lectures and round tables, and hosts an ayurvedic-kosher restaurant. Our goal is to reach more than just the peaceful coexistence. As a laboratory of living together we invite all interested people – religious or not – to experience and maintain a dialogue beyond the frontiers of religion, language and culture. There is no alcohol sold at the festival as some religions have the maxim to abstain from it.
Type of Work: "Fête KultuRel": A 3-4 days festival with contributions of different communities, organizations and individuals. The festival and the preparations of it are an opportunity to meet and connect, to work together, and to celebrate cultural and religious diversity.
Prepare the space, where part of the festival will take place (under a bridge, on concrete, quite an "urban scenery")
Help in the setting up and removing of the stage and other infrastructure for the festival (may be early in the morning or late at night)
Develop and realize on your own initiative a promotion in town for the festival or an activity at the festival.
Study Theme: We'll tell you about the history, the goals and the work of the House of Religions – Dialogue of Cultures and show you the house, including mosque (islamic), church (christian), temple (hindu), dergâh (alevi), center (buddhist) that are all part of it (about 1.5 hours). We inform you about the "Fête KultuRel" and your part in it.
Accommodation: You will be hosted in an apartment - the specific facility is not yet known. Please bring a sleeping bag and if you wish your own comfortable sleeping mat. Access to a washing machine can be arranged. Internet will be available through the Wifi in the "House of Religions". On Tuesday and Wednesday you can have an ayurvedic-kosher lunch at the "House of Religions". During the Fête KultuRel lunch and dinner will be available at the festival (Thursday - Sunday). Other meals and breakfast need to be organised amongst the SCI volunteers - a budget will be provided.
Language: Required language is English and / or German. In case you do not speak English, be aware you might not be able to communicate with all other international SCI volunteers directly, but you are nevertheless welcome!
Local language is Swiss German. Some people in the project speak German, Tamil, Kurdish and many other languages.
Organization Description: SCI Switzerland is a non-profit organisation which promotes intercultural exchange, sustainable development and non-violent conflict resolution. It has been organizing workcamps and long-term exchanges for volunteers worldwide since 1920. Each year more than 100 volunteers from Switzerland engage in SCI projects abroad, while around 200 international volunteers participate in projects in Switzerland. SCI Switzerland is certified by the Intermundo quality label, which guarantees high quality standards in youth exchange. Swiss workcamps are mainly focused on the work with youth as well as in the area of environmental protection. That is why among SCI Switzerland`s values is also an environmentally friendly lifestyle in accordance with the ideas of sustainable development. Volunteers are encouraged to be eco-friendly, especially when travelling to Switzerland and during the projects. Before applying be aware of high travel costs within Switzerland and check prices on the railway website www.sbb.ch. A participation in the camp from the first until the last day is needed for reason of instruction and group dynamic.