Topic:
2: Refugees, immigrants and ethnic minorities
Work Types:
Agriculture / Restoration, renovation
Free places for Females:
0
Free places last update:
25 Jun 2019
International age:
18 - 99
Required Language:
English
Spoken Language:
German, Spanish
Motivation letter:
This camp requires an additional motivation letter to explain in more detail why you would like to attend.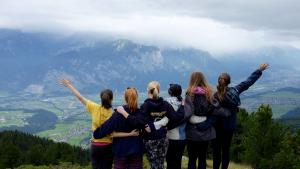 Description: The Waldhüttl is located in the hilly part of the alpine city of Innsbruck in Tyrol. It has been a refuge for resistance fighters in the 2nd world war and nowadays contains an intercultural housing and a small-holder farming project. It is home to several Roma people from Slovakia and Romania who are marginalized groups in their home contries without any perspective for employment. Furthermore it offers temporary accommodation to volunteer workers, pilgrims and a local staff, who relentlessly help the project running. The surrounding community garden has about 40 active members who are willing to exchange their experiences.
Type of Work: This year the Waldhüttl community also started to reactivate an old wood pasture area about 30 minutes by car from the main site. Part of the project works will be conducted there in a very nature-orientated location with majestic view over the Inn Valley. International and local volunteers in this camp will renovate the path of world religions and replant a little pond to transform it into a natural biotope. On the second project site (wood pasture) the work will consist in the constructions of basic infrastructure like fences, a tipi, etc. to facilitate different kinds of agricultural use. Other smaler tasks during the camp might be to help organizing a Roma festivity and to ameliorate the stables of the animals. Work will be mainly physical and will be for about 5 to 6 hours each day.
Study Theme: Learning about living conditions and everyday life of Roma and homeless people in Innsbruck, learning about world religions and conflict regions, learning about alternative and self-sufficient living forms, "alternative" sightseeing walk through the city center, learning about urban gardening projects etc. The property is a venue between people of different backgrounds and grants the possibility to learn from each other in terms of intercultural understanding and alternative, environmental and nature-bound living form projects.
Accommodation: The main sleeping area will be in a three leveled, cozy and clean barn, where mattresses are available. There is also a small extra room with a few beds. However please bring sleeping bags and sheets and who needs it, pillows. It is also possible to sleep in a tent in the garden, if you bring one with you (and if yes, don't forget a mat). There is a kitchen in the gathering room, where the volunteers will cook their meals. Outdoor there es an adobe oven which was reconstructed in last year's camp and can be used for baking pizza.
Requirements: Small letter of motivation required. Furthermore we would like volunteers to come to the camp in an eco-friendly way and if this is not possible due to a long distance, we recommend to engage with reliable C02-compensating agencies like atmosfair https://www.atmosfair.de/en/home or myclimate http://www.myclimate.org/
Approximate Location: Innsbruck is the capital city of the federal state Tyrol of Austria with about 130.000 inhabitants. It is located in the Inn Valley, surrounded by high mountains - the impressive Karwendel Alps to the north, and the Patscherkofel and Serles to the south. Innsbruck lies about half way between Munich (GER) and Verona (IT). The capital of Austria (Vienna) is about 386 km east of Innsbruck.
Notes: Here are some useful links (in German): www.waldhuettl.at www.facebook.com/waldhuettlmentlberg Report from 2016 (in English): www.sci.or.at/waldhuettl
Organization Description: SCI Austria is the Austrian branch of Service Civil International, founded in 1947 and based in Vienna. We are mainly volunteers who have been on international workcamps ourselves and who want to organize meaningful and critical projects in our country as well.