Renovation and Gardening at Waldorf School Schönau 1
Topic:
13: Community life
Work Types:
Construction / Manual / Restoration, renovation
Free places for Females:
0
Free places last update:
09 May 2019
International age:
16 - 99
Required Language:
English
Motivation letter:
This camp requires an additional motivation letter to explain in more detail why you would like to attend.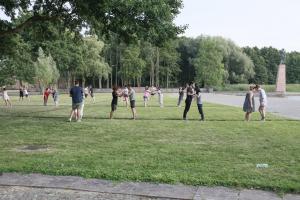 Description: The Waldorf school and kindergarten Schönau educates children by the principles of Rudolf Steiner. There is a lot of nature around and you will have the possibility to work and relax in an old parkway. Sometimes there are events in the Waldorf school. Every summer since 1998 a new part of the school building and the garden is renovated by SCI volunteers. In the evenings there is the possibility to have a campfire.
Take a look at the school's website (http://www.waldorf-schoenau.at/) and a report of the workcamp (http://www.sci.or.at/?p=944).
Type of Work: The volunteers will be taking care of the area that surounds the school and will do gardeningwork. Also renovationworks like painting classrooms and fixing the walls of the building. No previous experience is required.
Study Theme: The workcamp will include a workshop on the principles of Rudolf Steiner education.
Accommodation: In classrooms on the floor - volunteers need to bring sleeping bags and mat (and if needed pillow). The participants will cook for themselves.
Requirements: A small motivation letter stating the motivation for the participation in this camp.
Approximate Location: Schönau an der Triesting is a small village in Lower Austria. Schönau is close to Leobersdorf (15 minutes to walk) where there is the next railway station and approximately 50 km south of Vienna.
Organization Description: SCI Austria is the Austrian branch of Service Civil International, founded in 1947 and based in Vienna. We are mainly volunteers who have been on international workcamps ourselves and who want to organize meaningful and critical projects in our country as well.