Youth for Nature 1 - Donau-Auen National Park & world heritage Wachau
Topic:
10: Environment protection
Work Types:
Environment / Manual
Free places for Females:
0
Free places last update:
17 Jul 2019
International age:
18 - 99
Required Language:
English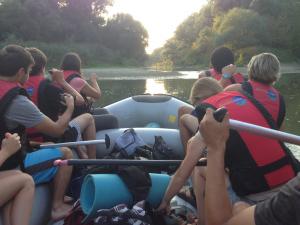 Description: floodplains in Central Europe. Its protection originates from a civil initiative against plans to build hydro power plants in the area. The area is a safe haven for nature and biodiversity inbetween two European capitals, Vienna and Bratislava. As one of the oldest cultural landscapes in Austria, the Wachau attained the European Diploma of Nature Protection in 1994. In December 2000, it was nominated a UNESCO-World Heritage site. The Wachau is located in Lower Austria and contains the most valuable and endangered natural habitats in the river valley of the Danube.
Type of Work: The volunteers will live and work in the National Park and the Wachau protected area will help the National Park in the maintenance of this environment and will experience it with their own senses. Some of the tasks are physical work, such as removing invasive plant species (neophytes), collecting trash, reconstruction of walking paths, or construction of nesting boxes for bats or birds.
Study Theme: The participants will learn about the National Park and the Wachau protected area and its biodiversity, both informally (via their work and collaboration with people from the National Park) and formally.
Accommodation: In Eckartsau we will stay at the Nationalpark-Camp Meierhof next to the castle of Eckartsau (Adress: Schlossgasse 2, 2305 Eckartsau). We will sleep in big tents and therefore need a sleeping bag and perhaps a camping mat. In the camp, there is also a house that contains common areas, kitchen, toilets and showers. During our time in Spitz, we will be staying at the local secondary school – the Neue Mittelschule Spitz, located in the heart of Wachau. You will need a sleeping bag.
Language: English
Requirements: Small letter of motivation is required. You should be at least 18 years old and in good physical shape
Approximate Location: Eckartsau is a village east of Vienna, you will sleep in a big tent. The camp is near the castle of Eckartsau. Eckartsau is a small village with one shop, café and restaurant. There is a local doctor and the next hospital is in Vienna. Spitz is a small village and does not offer a lot of shopping opportunities. However, there are two supermarkets, a clothing/shoe shop, a pharmacy, an optician's, a tobacconist's, some cafés and wineries. There is a local doctor (a GP), but no hospital (that is located in the next bigger towns – in Krems or Melk – about 20 min away by car.)
Organization Description: SCI Austria is the Austrian branch of Service Civil International, founded in 1947 and based in Vienna. We are mainly volunteers who have been on international workcamps ourselves and who want to organize meaningful and critical projects in our country as well.