Topic:
10: Environment protection
Work Types:
Agriculture / Environment
Free places for Females:
1
Free places last update:
25 Jun 2019
International age:
18 - 35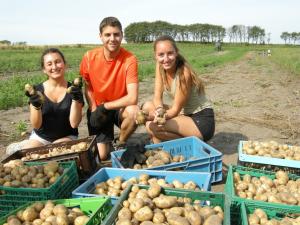 Description: Raad and amp; Daad is a sociconomic gardening company that strives to activate and create meaningful living- and working conditions for people who cannot live up to the competition in the labour market. Thus, most of the people working at Raad and amp; Daad is not well-integrated in society. Some are fragile or with minor disabilities. You will be working together with some of these people. They might not be good at English, but they are looking forward to meet you and welcome you.Raad and amp; Daad is an organic gardening with surrounding fields with different crops, but it is also a second hand shop with furniture and clothes and a farm shop. Raad and amp; Daad also delivers their vegetables to the locals, and do services as lawn mowing.You can visit Raad and amp; Daads webpage: http://www.raaddaad.dk/ - but it is in Danish, unfortunately
Type of Work: You will be part of the daily work in our 6 hectare big organic outdoor gardening. In July, the primary work tasks are to exterminate weeds, harvest and sell vegetables. We also have some goats and hens that needs to be fed, and if you have building skills we can also find some construction projects. Besides the work, we will of course have time to participate in cultural events in the local area and do smaller trips to the sea and the fiord.
Accommodation: Sleeping facilities:All participants will sleep together in a big living room on mattresses. There will also be tents, if anybody prefer that option. We have mattresses for everybody, but you need to bring a sleeping bag yourself.Kitchen bathroom facilities: There is a kitchen with all kitchen equipment, and a fireplace available for cooking. The Work Camp group will cook for each other and make breakfast, lunch and dinner together with the two camp leaders.There are bathrooms including a washing machine for free use.
Language: eng,
Requirements: All work will outdoor, so you have to like to be outdoor in all kinds of weather. It is preferable if you have some kind of practical skills, since you are to build, paint, etc. A motivational letter is required. Please write I 1/2 page about yourself, explaining why you are motivated for this camp.
Approximate Location: The sociconomic market gardening Raad and amp; Daad is located in the Northern Denmark. In the spare time and weekends there will be plenty of time to explore the area and participate in local events. Social activities will be arranged by the two Work Camp Leaders from Denmark. It will be possible to do smaller trips to the sea, the fiord, etc. Raad and amp; Daad has bicycles available you can borrow.On you off days, it is possible to arrange daytrips e.g. to Skagen (the most Northern point of Denmark), Aalborg (the nearest city) or what you find interesting. But you will need to pay for public transport.If you wish to stay some days after the Work Camp has finished it is possible to camp or use the shelter at Raad and amp; Daad. Just coordinate it with the host beforehand.