Journeys to a better society – Exploring ways to help – III
Topic:
13: Community life
Work Types:
Work with people with disabilities / Environment / Sport
Free places for Females:
3
Free places last update:
14 Jul 2019
International age:
18 - 80
Extra fee to be paid in the hosting country:
120.00 Euro
Breakdown:
Accommodation and food: 0.00 Euro
Transportation: 0.00 Euro
Activities: 0.00 Euro
Hosting organisation support: 120 Euro
Purpose of extra costs:
To cover the food, accommodation, local transport for project, certificate of participation, international insurance and materials for the camps. Please keep it in your mind that all personal expenses and free day expenses are excluded.
Required Language:
English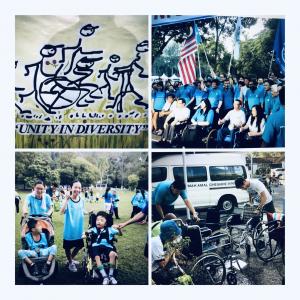 Description: This is a replication of last 2 year popular Workcamp – hence we have the ( III ), The camp covers 3 exciting events and will provide an excellent opportunity for the Volunteers to appreciate our Community and Way of Life better by participating in 1st - an SCI initiated Peace Run where over 300 disabled joined 1000 over able participants in our Annual Run, 2nd work, interact and entertain residents at an Old Folks Home, and two centers for the Disabled, and 3rd – Nature Study and light work related to the flora and fauna of Penang Hills
Type of Work: 1st – the Peace Run – you are encouraged to participate in the 7 km Run, or help out in the organising of the event. We plan to give an International Presentation if possible. 2nd – at Old Folks Home - to entertain the Senior Citizens for 2-3 hours with songs, etc. and Wheel Chair maintenance at the Centers for disabled people. 3rd – Be open to learn and work as an Nature Environmentalist.
Study Theme: Every evening there will be time for Reflection and sharing of one's experience. Talks, Dialogue and Discussion Sessions on Peace will be held. Sightseeing to several of the popular and significant sites will be arranged. Penang is listed as on the UNESCO Heritage City. Malaysia though a secular country with Islam as their official religion has an interesting model of moderation and development in lifestyle, infrastructure and economy
Accommodation: Basic accommodation with adequate facility for available. Volunteers may stay in a bungalow up in a hill. It is highly recommended to bring a light blanket or sleeping bag and toiletries with you.
No Wifi however, one may subscribe to the many mobile network. We strongly urge participants refrain from playing with e-games or engaged in chat-groups during our Study Group Discussion and Reflection time.
Language: English is the camp spoken language. The National Language is Malay. Mandarin and the dialect - Hokkien are popularly used.
Requirements: Interested in volunteering and community services. Willing to learn, share and interact with people from different communities, and help out in the kitchen, housekeeping etc.. Ability to adjust to the intercultural expectations of the community especially dressing at place of worships.
Approximate Location: This work camp will be held in Penang which is better known as the Pearl of the Orient. Penang, is an Island city-state, locate in the North West of peninsular Malaysia. Peninsular Malaysia is south of Thailand, east of Sumatra, Indonesia, and North of Singapore.
It is also rated as having one of the best hawker stalls in the world. The 46 km round the island offers modernity, yester year uniqueness and nature. Penang is also an UNESCO endorsed heritage site. An opportunity to serve and understand the local culture, visit tourist sites, savour world class food.
Notes: An excellent opportunity to experience Malaysia's cultural diversity - Malaysia is a tropical country, so expect heat, humidity and also rain - The participants are also asked to bring their own sleeping bags. - They will also be cooking for themselves, but the ingredients will be provided - In some cases the participants will have to walk from location to location, so be prepared for that.
Travel light, there are many stores, malls in Penang that offers almost whatever you need (no dangerous drugs, which is strictly prohibited) at very competitive pricing.