Work in an agricultural field inside the oasis
This project is part of the SCI North South Programmes. Volunteers should be 20 years old, have previous volunteering experience and take part in the Preparation Workshops organised by their sending branch. More details from your sending branch.

Topic:
11: Climate and sustainable lifestyle
Work Types:
Agriculture / Construction / Cultural heritage
Free places for Females:
5
Free places last update:
18 Dec 2019
International age:
20 - 99
Extra fee to be paid in the hosting country:
100.00 Euro
Breakdown:
Accommodation and food: 0.00 Euro
Transportation: 0.00 Euro
Activities: 0.00 Euro
Hosting organisation support: 100 Euro
Purpose of extra costs:
for food and accommodation
Required Language:
English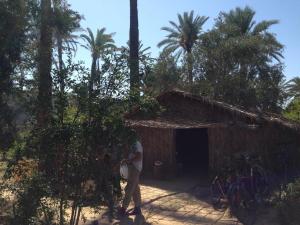 Description: Volontariat sans Frontières is an organization founded in 2013 with 3 main goals: youth volunteer involvement, oasis protection, local savoir-faire and traditions preservation thanks to women employment. The purpose of this camp is to be able to welcome associations, schools, families and children for workshops, training ... The association would like to develop the vegetable garden to be able to show children traditional methods of cultivation, to raise awareness local agricultural know-how. It is also a way to preserve the oasis, because more and more plots are abandoned because of the lack of interest of young people in agriculture.
Type of Work: Gardening and planting (after ploughing the land) + Enclose a new field with palm tree leaves. It is a garden in organic farming which has belonged to the association for 2 years. All the long-term volunteers work on it but are not numerous enough and not present often enough to do all the work to be done. The plot consists of a fenced part with a palm hut, and pomegranate plantations. There is also a space for the vegetable patch. A second part is still abandoned, we have started clearing but we must continue working the soil and close it.
Study Theme: It is a place with diverse productions, from agriculture (dates, pomegranate...) and handicraft (basketwork...) which help local population to make a living. It is also a place to live, with wonderful landscapes!
Accommodation: The accommodation will be at AGIM apartment building in shared room
Language: French is the local language with volunteers but english can also be spoken
Approximate Location: Chenini Gabès, Tunisia Chenini oasis is a unique place where the sea, the mountains, the desert and the oasis meet all together.