Summer in Villaggio Carovana 1
Topic:
9: People with disabilities
Work Types:
Work with people with disabilities / Medical / Social
Number of places still available:
4
Free places last update:
15 Jun 2020
International age:
18 - 99
Required Language:
English
Motivation letter:
This camp requires an additional motivation letter to explain in more detail why you would like to attend.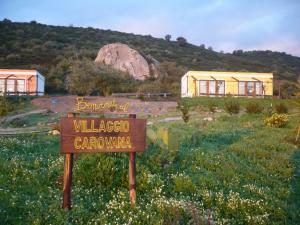 Description: The "Villagio Carovana" is a social cooperative that organises, since 2006, trips and vacation times without mental or architectural barriers, this takes place in a "vacation house" with 8 rooms provided for the hosts. From July to September, the house hosts 5/6 adults person with physical or mental disabilities for holiday, these are part of the cooperative and stay in 2 or 3 rooms of the house. The other rooms are occupated by autonomous tourists who don't need any assistance. Human relationship is the basis of integration so we can build a righter and welcoming world. Villagio Carovana provides to non-autonomous people the opportunity to spend vacation time in a cosy and interesting atmosphere, from landscapes to social life.
Type of Work: The tasks are physically exhausting for those who are not ready for the hot and wet weather in Sardegna, also mentally because of the responsibility and disponibility required in human relation. Giving a hand to cooperators during the main tasks as welcoming and managing disable people is the job: going to the sea, night assists, hygiene care and entertainment. The volunteers will also be involved in the organisation of activities addressed to hosts: games, creative and manual activities, enhancing relationships. It is better to have a few notions in the Italian language. The work will last on average 6 hours per day. It is also demanded to give help in the house quotidian activities: cooking and washing dishes, housekeeping, managing the garden.
Study Theme: The study part will be dedicated to good practices of social inclusion, promoted by SCI Association, using playful activities for cooperation. Moreover, meetings and activities will be organized and realized through non-formal education methods.
Accommodation: Volunteers will be accommodated in a tent or caravan in "Villagio Carovana" (Castiadas). Bathrooms and showers are shared, both indoors and outdoors. "Villaggio Carovana is in the countryside, isolated from the centre (Castiadas is 5 km away from Villaggio Carovana). To move around, it is necessary to take a bus, which passes several times per day just in front of the house.
Language: Some knowledge of Italian language can facilitate communication with "special guest". However, it is not compulsory.
Requirements: Strong sense of responsibility and disposition towards human relationships and empathy are essential: manual skills, high motivation and flexibility to work with non-self sufficient persons. The volunteers should be open to communitarian life in countryside. It is better to have minimal knowledge of Italian, knowing that the hosts will be Italian. A motivation letter is required.
Approximate Location: Cagliari Airport of Elmas; Alghero Airport; Central Train Station of Cagliari; Maritime Station of Cagliari.
Notes: During their free time (one day off planned), volunteers can go to the beach and enjoy beautiful landscapes provided by local area. They can go by feet or by bicycles. They can also visit the ex-colonial museum or the city of Cagliari. Volunteers have to take clothes that fit with warm temperature, a hat, solar lotion, flashlight, mosquito spray, toilet and beach stuff. VillagioCarovana provides linens, towels, blankets, hairdryer. Volunteers will stay in a caravan or tents so they have to adapt to simple living conditions. For any other informations, go check the following link: http://www.youtube.com/watch?v=BmmQwUX22dw