Introduce The community To Organique Agriculture, preventing Global Warming, and Being Self Sufficient In Water
This project is part of the SCI North South Programmes. Volunteers should be 20 years old, have previous volunteering experience and take part in the Preparation Workshops organised by their sending branch. More details from your sending branch.

Topic:
11: Climate and sustainable lifestyle
Special Topics:
No more war!
Climate for Peace Programme:
Work Types:
Agriculture / Construction / Environment
Number of places still available:
5
Free places last update:
07 Mar 2019
International age:
18 - 99
Extra fee to be paid in the hosting country:
100.00 Euro
Purpose of extra costs:
THE 100.00 EUROS WILL BE FOR ALL TRANSPORTATIONS COSTS, FOOD AND ACCOMODATION
Required Language:
English
Child friendly camp
Yes (Minimum age: 5)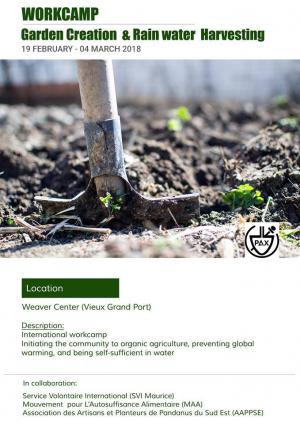 Description: Building a reservoir to conserve rain water for dry seasons and planting new plant varieties which will be more adaptive to hotter and dryer climate.
Type of Work: Manual and Agricultural
Study Theme: Agriculture, Landscape Engineering, Sustainable Living & Food Self-sufficiency
Accommodation: TENTS
Language: ENGLISH AND/OR FRENCH
Requirements: ABOVE 18 YEARS OLD AND PHYSICALLY FIT
Approximate Location: Weavers Center IN MAURITIUS
Notes: CAMPING BAG, MAT AND TORCH