This project is part of the SCI North South Programmes. Volunteers should be 20 years old, have previous volunteering experience and take part in the Preparation Workshops organised by their sending branch. More details from your sending branch.

Topic:
3: International solidarity
Work Types:
Peace / Study, discussion, research
Number of places still available:
11
Free places last update:
07 Mar 2019
International age:
18 - 99
Extra fee to be paid in the hosting country:
2950000.00 Indonesian Rupiah
Purpose of extra costs:
1. Project Material during Workcamp. 2. Accommodation during Workcamp, 3. Transportation from (only from MEETING POINT to PROJECT SITE and VICE VERSA at the scheduled time by our campleaders). 4. Transportation during Workcamp 5. Meals 3x during workcamp (EXCLUDE 1 day during Free Day/Excursion) 6. GREAT T-Shirt, Hospitality for Local Partner/People. 7. Management for GREAT for Camp Leaders Training, Camp Leaders' Transportation and Communication, Local Members Trainings and Workshops, Project Development, Staff Salary, GREAT Office Needs, Volunteer Houses' Rent, and GREAT Saving.
Required Language:
English
Motivation letter:
This camp requires an additional motivation letter to explain in more detail why you would like to attend.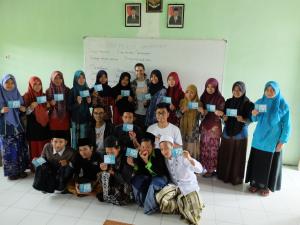 Description: Conflicts take place on different countries and areas for many seen and unseen reasons.
Indonesia is a country with huge diveristy of ethnic groups and traditions including migrants who have been living for generations in this country, as well as of religions and faiths. People are always in risk of conflicts especially because of the fact that some of Indonesian politicians use this issue to get their own benefit for keeping their power especially when there is election. Therefore, living peace in diversity is always an important issue in Indonesia.
In coooperation with Al-Ishlah Islamic foundation, GREAT's local partner for almost 3 years now. It is an Islamic organization that concerns on peace and global education for all. The foundation provides shelters, middle and high sc
Type of Work: Volunteers will learn about Indonesia' diversity and share about their countries' diversity. Discuss about peace and how peace education should be communicated for youth. Volunteers will create workshops on peace education using non formal learning & participative methods and share it with students of Al Ishlah school, students of local university.
Study Theme: Learning the philosophy peace and reconciliation in the context of Al Ishlah School.
Accommodation: In the school. Volunteers will share together sleeping space separately between females and males. No bed. Need sleeping bag. Sharing bathroom.
Self cooking by the volunteers. Volunteers will make common rules, daily cooking team, cleaning team and washing team and any additional needs together for their collective living group.
Language: English with other volunteers. Bahasa Indonesia with locals
Requirements: 1. Having strong interest in peace education and non formal learning method
Having Interest in organizing workshops/events for young people
Approximate Location: Al-Ishlah Junior High and Boarding School, Semarang City, Central Java
Notes: Weather can be up to 40 degree Celsius with 80% humidity.