Entertainment in Asylum Seekers Center-Florennes
Country:
Belgium - French speaking
Topic:
2: Refugees, immigrants and ethnic minorities
Work Types:
Work with children / Social / Sport
Number of places still available:
0
Free places last update:
14 Aug 2018
International age:
20 - 99
Extra fee to be paid in the hosting country:
0.00 Euro
Required Language:
English
Motivation letter:
This camp requires an additional motivation letter to explain in more detail why you would like to attend.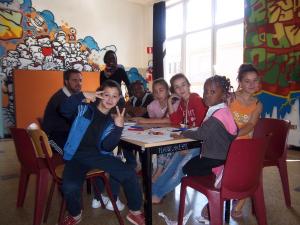 Description: The center of Florennes is an open center for asylum-seekers. The residents of the center benefit from social and material assistance as well as medical care during the waiting period of their application for asylum in order to be recognized as a refugee. The center hosts 350 people from various origins (mainly men). This number is less than last year due to the increasingly restrictive migration policies. The staff has to manage still a lot of people, with little financial means...
Type of Work: The work will consist mainly in organizing activities for children, youth and adults living in the center. The workcamp will end with a closing activity (show, exhibition, party…) that will be determined together with the center staff in the first week. For the residents, the presence of the group during two weeks is really refreshing and entertaining.
Study Theme: Migration issues and asylum procedure in Belgium. The first day, a training about living an intercultural experience will be proposed to the group.
Accommodation: Accommodation in group in 2 big rooms of the center (bedsheet are available in the center). The volunteers will live in the same conditions as the residents: they will share their food, their toilets,... Those conditions are quite basic.
Language: English and basics of French are welcome (Asylum seekers do not all speak English).
Requirements: A motivation letter is requested for this camp (in English or in French). The minimum age is 20 years old. For volunteers motivated by organizing activities. Volunteers with skills in sport or art are particularly welcome. The workcamp can be psychologically tiring (proximity with the residents). Volunteers must be at least 20 years old.
Approximate Location: Florennes is a village located in the South of Belgium, 25 kilometers away from Charleroi, in a rural area. The closest big cities (Brussels, Namur, Mons) are 1hour away from Florennes.
Notes: For your information, the budget granted to the Centers for Asylum Seekers were drastically reduced in 2014. Volunteers are then encouraged to realize activities at a lower cost and those who want are welcome to bring material with them. Moreover, volunteers will eat the same food than the residents. The budget for the food is very restricted, which can be an issue for some volunteers (very simple food, not very various). Please take some food with you if you think it can be a problem. It will be also possible to access a kitchen if the group wants to cook. Not accessible to wheelchairs.