Mountain Hiking Trails (Maloja GR)
Thème:
10: Protection de l'environnement
Types de travail:
Construction / Environnement / Travail manuel
Nombre de volontaires:
13
Nombre de places disponibles:
5
Dernière mise à jour du nombre de places disponibles:
21 Mai 2021
Age international:
18 - 99
Langue parlée:
Anglais, Allemand, Italien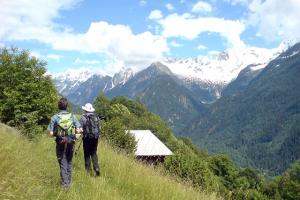 Description: Salecina is located at the border of Upper Engadin and Bergell in one of the most beautiful landscapes. It is a self-administered holiday centre with an uncomplicated and open atmosphere. The guests cook, clean and do their own things. The house is available to young and old travelling alone, as families or groups eager for education or engaged in social issues. It is a unique place for meetings and discussions. Together with the municipality Bregaglia we offer this workcamp. Bregaglia is an idyllic alpine valley that connects the canton of Graubünden to the north, with Italy to the south. Steep, elegant granite mountains and beautiful forests protect the small villages rich in art and history. It is a paradise for hikers and mountain climbers, but also a quiet refuge for artists.
Type de travail: The work will involve mainly repairing and fixing of the hiking paths in the surroundings of Maloja. We will work in the vicinity of Salecina fixing outside benches, weeding sorrel planting beds and berries and we will also root out neophytes in Maloja with Pro Natura (Swiss nature protection organization).
Thème d'étude et de réflexion: Self-administration and grassroots democracy project Salecina, hiking paths, region Bregaglia, Engadin, biodiversity, nature protection…
Logement: Salecina has 2-, 4-, and 12-bedded rooms, sitting rooms, a library and a room for lectures/seminars and activities. Mattresses, blankets and bed sheets are provided. Towels and sturdy house shoes/slippers should be brought. Shared washrooms and toilets are situated on each floor. The use of the washing machine for 5.- CHF / washing needs to be arranged with the workcamp hosting partner. Access to the internet is available in some of the living rooms. Food is organised by the employed team. All guests perform daily domestic chores: cooking, doing the dishes and cleaning tasks around the house.
Langue: The holiday centre guests as well as locals mostly speak German and Italian. If you have additional German or Italian skills, this would be nice (but not obligatory). The house is situated in an area where German or Italian is spoken.
Qualifications: Most of the work involves fixing the hiking paths. For this reason the volunteers need to be good on their feet and be able to walk on narrow mountain paths. Please bring warm work clothes (we are at 1800 meters above sea), good walking boots, towels and sturdy house shoes/slippers. Also bring things for your personal comfort.
Remarques: SCI Switzerland likes the concept of the self-administered holiday house Salecina and supports the municipality in their work for the public service and the local envirionmental organization.
Description de l'organisation: ATTENTION! PLEASE READ OUR STATEMENT ABOUT THE SITUATION WITH COVID-19 AND WORCAMPS IN SWITZERLAND 2021 HERE: http://bit.ly/3c06lX9 --- SCI Switzerland is a non-profit organisation which promotes intercultural exchange, sustainable development and non-violent conflict resolution. It has been organizing workcamps and long-term exchanges for volunteers worldwide since 1920. Each year more than 100 volunteers from Switzerland engage in SCI projects abroad, while around 200 international volunteers participate in projects in Switzerland. SCI Switzerland is certified by the Intermundo quality label, which guarantees high quality standards in youth exchange. Swiss workcamps are mainly focused on the work with youth as well as in the area of environmental protection. That is why among SCI Switzerland`s values is also an environmentally friendly lifestyle in accordance with the ideas of sustainable development. Volunteers are encouraged to be eco-friendly, especially when travelling to Switzerland and during the projects. Before applying be aware of high travel costs within Switzerland and check prices on the railway website www.sbb.ch. A participation in the camp from the first until the last day is needed for reason of instruction and group dynamic.