This project is part of the SCI North South Programmes. Volunteers should be 20 years old, have previous volunteering experience and take part in the Preparation Workshops organised by their sending branch. More details from your sending branch.

Topic:
4: Peace and disarmament
Work Types:
Work with children / Peace / Social
Number of places still available:
7
Free places last update:
12 Jul 2018
International age:
20 - 99
Extra fee to be paid in the hosting country:
170.00 Euro
Purpose of extra costs:
For food, accommodation and local travelcosts during the camp, as well as some admnistration costs
Required Language:
English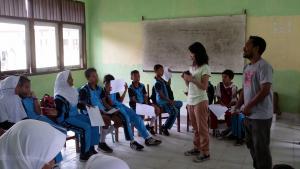 Description: Ambon is part of the province Maluku. It was affected by a major conflict in 1999-2002, which developed along religious lines: between Christians and Muslims. Although the situation is stable and safe now, one can't yet really speak about peace. Among others there is still segregation: neighborhoods and/or schools which are just related to one religion. Another issue is the aspect of the environment and education about nature. In cooperation with schools IVP Indonesia tries to tackle and combine both issues.
Type of Work: The volunteers will help with a cooperation process between Christian and Muslim schools to plant seeds of flowers for the school-gardens. Besides that the volunteers will prepare and run peace-education workshops –workshops for and about peace- and cooperation- games at primary and secondary schools.
Study Theme: During the camp there will be workshops for the volunteers about violent conflicts in the world – with a natural focus on Ambon-. Discussions about causes of wars are foreseen, as well as the role of SCI in the history and nowadays, when it is related to wars.
Accommodation: The volunteers will sleep in an own apartment and will cook for themselves.
Language: Some important basic words in Indonesian language will be taught at the beginning of the camp.
Requirements: interest in conflicts, conflict-transformation and peace
Approximate Location: The island Ambon is situated in the east of Indonesia and is part of Maluku-province. It is famous for the nature and special herbs.