Mangkang Enviromental Camp I
Dit project is onderdeel van het SCI Noord-Zuid programma. Vrijwilligers moeten minimum 20 jaar oud zijn, eerdere work@world – of andere Noord/Zuid ervaring hebben en deelnemen aan de voorbereidingsdag. Indien je je niet kan inschrijven en wel aan de criteria beantwoord, stuur een mailtje naar VIA op dit e-mailadres outgoing@viavzw.be

Camp code:
ID-PKB 11.1902
Onderwerp:
11: Klimaat en duurzaamheid
Speciale onderwerpen:
Programma van 'Climate for Peace'
Type activiteiten;
Milieu & klimaat
Aantal vrije plaatsen voor mannen:
6
Aantal vrije plaatsen voor vrouwen:
6
Laatste update van het aantal vrije plaatsen:
01 nov 2018
Internationale minimum leeftijd
18 - 99
Nationale minimum leeftijd
16 - 99
Extra bedrag te betalen op het project ter plaatse:
180.00 Euro
Doel van de extra kost:
The cost will cover the accommodation, Food, Material of the project, IIWC-Tshirt and Certificate of participation.
Vereiste taalkennis:
Engels
Gesproken taal / talen:
Engels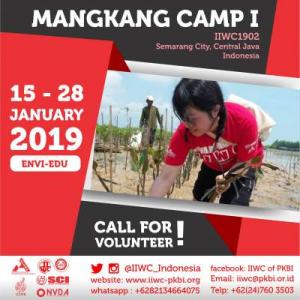 Beschrijving: Mangkang is a fisher and farmer village located in west Semarang. This project has become annually and continuously project organized by IIWC in answering the needs of preserving the coastal side of North Java Sea in Mangkang. About 1,1 km costal line in Mangkang area is now in danger due to the abrasion of the sea, cutting mangrove by local people and heavy force from the river flows. Before, many kinds of fish and shrimps are living there, but now since the condition of the mangrove forest is getting worse, it is quitedifficult to find the species anymore. Fisherman also needs to go further to the ocean to fish and it means much work they need to do to earn money. Mangkang is the project site forIIWC World Tanabata Action of CCIVS UNESCO and Climate4Peace of SCI International.
Type activiteiten; Work: Planting mangrove and other trees in beach, environment education garbagemanagement discussion to local people and local children, some physical activity to supportgarbage management program in this are, school visits for environment education, greencampaign in city centre, and manage the mangrove fruits to be snacks or foods andpromote it. A testimony of previous volunteer from Lithuaniahttp://volunteersways.blogspot.ch/
Accomodatie: IIWC Volunteer house, sleeping bag is needed, self cooking, and selfmanagement.
Beschrijving van de organisatie: IIWC (Indonesian International Work Camp) is one of PKBI (Eng: Indonesia Planned Parenthood Association) program who deal with IVS movement since 1999.