Megalithic Village Camp I
Dit project is onderdeel van het SCI Noord-Zuid programma. Vrijwilligers moeten minimum 20 jaar oud zijn, eerdere work@world – of andere Noord/Zuid ervaring hebben en deelnemen aan de voorbereidingsdag. Indien je je niet kan inschrijven en wel aan de criteria beantwoord, stuur een mailtje naar VIA op dit e-mailadres outgoing@viavzw.be

Camp code:
ID-PKB 13.1903
Onderwerp:
13: Samenleving (community life)
Type activiteiten;
Werken met kinderen / Restoratie & renovatie
Aantal vrije plaatsen voor mannen:
8
Aantal vrije plaatsen voor vrouwen:
7
Laatste update van het aantal vrije plaatsen:
01 nov 2018
Internationale minimum leeftijd
18 - 99
Nationale minimum leeftijd
16 - 99
Extra bedrag te betalen op het project ter plaatse:
220.00 Euro
Doel van de extra kost:
It will cover foods, accommodation, and local transport for project, IIWC T-shirt, certificate of participation, management fee and material for the camps.
Vereiste taalkennis:
Engels
Gesproken taal / talen:
Engels
Motivatie brief:
Voor dit project is een motivatie brief vereist (Waarom kies je voor dit thema & project? Ervaring thema? Wat kan je als vrijwilliger bijdragen?)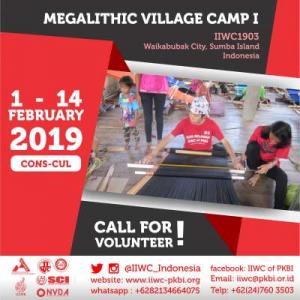 Beschrijving: A Megalithic Village Heritage Project is located in Prai Ijing Village of Sumba Island. Prai Ijing Village is a traditional village, where you can find traditional houses. In this village, we can find the uniqueness of the house with the structure of the building. The village has many stories and tradition that the local people still apply it However, the village needs more to set up the infrastructure and the community needs to manage their village to be clean as well. Also, since many visitors are foreigner, the local could not explain the beauty of their culture in English.
Type activiteiten; Set up the infrastructure of the village, Waving and making handicraft with local mothers, village maping, helping the local feeding their animals, and also visiting the local school nearby the village.
Accomodatie: The volunteers will stay in a traditional house together with local people with a shared toilet and bathroom. The location is Prai Ijing Village, West Sumba Regency.
Beschrijving van de organisatie: IIWC (Indonesian International Work Camp) is one of PKBI (Eng: Indonesia Planned Parenthood Association) program who deal with IVS movement since 1999.