Dit project is onderdeel van het SCI Noord-Zuid programma. Vrijwilligers moeten minimum 20 jaar oud zijn, eerdere work@world – of andere Noord/Zuid ervaring hebben en deelnemen aan de voorbereidingsdag. Indien je je niet kan inschrijven en wel aan de criteria beantwoord, stuur een mailtje naar VIA op dit e-mailadres outgoing@viavzw.be

Camp code:
ID-PKB 12.1904
Onderwerp:
12: Kunst, cultuur en lokale geschiedenis
Type activiteiten;
Kunst / Culturele erfgoed
Aantal vrije plaatsen voor mannen:
6
Aantal vrije plaatsen voor vrouwen:
6
Laatste update van het aantal vrije plaatsen:
02 nov 2018
Internationale minimum leeftijd
18 - 99
Nationale minimum leeftijd
16 - 99
Extra bedrag te betalen op het project ter plaatse:
180.00 Euro
Doel van de extra kost:
The cost will cover the accomodation, Food, Material of the project, IIWC-Tshirt and Certificate of participation.
Vereiste taalkennis:
Engels
Gesproken taal / talen:
Engels
Vrijwilligers met kinderen welkom / Kindvriendelijk project
Ja (Minimum leeftijd: 0)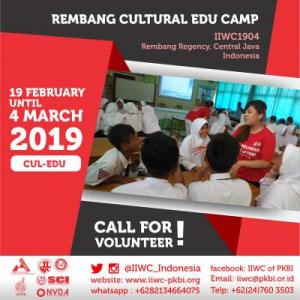 Beschrijving: The activities that will be carried out are learning about culture and providing education for young people to participate in preserving culture in Rembang. This program was implemented to introduce the culture carried out during Kartini's struggle. Kartini was one of the female heroes during the Dutch colonial era in Indonesia. She managed to create education for women in her time, because at that time a woman was not allowed to continue her education if she was 12 years old. Since that age, Kartini was married by his parents. Equipped with embroidery, batik, and sewing equipment. She started her determination to open an education school for women.
Type activiteiten; The main activities in Semarang Street Children Camp will deal with manual activities of teaching and playing with children such as making handicraft, necklace, or small something easy to get and possibly arts or music as well as collaborating with local people like sharing the culture. As a part of this project, school visit and university visit, we will visit some schools/university to campaign the street children project and cultural exchange. These activities really need strong motivation and physic. The detailed activities are broken down into the tentative schedule which will be sent together with welcoming email from the work camp leaders directly.
Accomodatie: The volunteers will stay in IIWC Volunteer house at Rembang Regency with shared toilet and bathroom, sleeping bag and mattress needed, self cooking.
Taal: English
Locatie: Rembang Regency, Central Java Indonesia.
Beschrijving van de organisatie: IIWC (Indonesian International Work Camp) is one of PKBI (Eng: Indonesia Planned Parenthood Association) program who deal with IVS movement since 1999.