Dit project is onderdeel van het SCI Noord-Zuid programma. Vrijwilligers moeten minimum 20 jaar oud zijn, eerdere work@world – of andere Noord/Zuid ervaring hebben en deelnemen aan de voorbereidingsdag. Indien je je niet kan inschrijven en wel aan de criteria beantwoord, stuur een mailtje naar VIA op dit e-mailadres outgoing@viavzw.be

Onderwerp:
7: Kinderen en jeugd
Type activiteiten;
Werken met kinderen
Aantal vrije plaatsen voor mannen:
6
Aantal vrije plaatsen voor vrouwen:
6
Laatste update van het aantal vrije plaatsen:
02 nov 2018
Internationale minimum leeftijd
18 - 99
Nationale minimum leeftijd
16 - 99
Extra bedrag te betalen op het project ter plaatse:
180.00 Euro
Doel van de extra kost:
The cost will cover the accomodation, Food, Material of the project, IIWC-Tshirt and Certificate of participation.
Vereiste taalkennis:
Engels
Gesproken taal / talen:
Engels
Vrijwilligers met kinderen welkom / Kindvriendelijk project
Ja (Minimum leeftijd: 0)
Motivatie brief:
Voor dit project is een motivatie brief vereist (Waarom kies je voor dit thema & project? Ervaring thema? Wat kan je als vrijwilliger bijdragen?)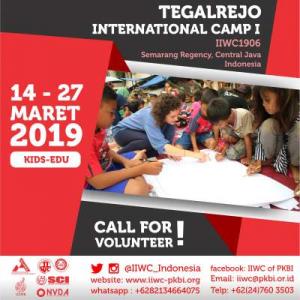 Beschrijving: Background: This project was Initiated since 2006 by cooperation with NOVIB IDO which concerned in the prevention of STI and HIV/AIDS in Tegalrejo and Sukosari the two prostitution areas in Semarang uptown. After this pilot project, this project turns to focus more on the education especially highlighting the mental side of the children in the prostitution. This is due to the lack of concern on this issue from all stakeholders in Tegalrejo prostitution area while IIWC found out that there is big chance for IIWC to address the children issue. Project: Tegalrejo project at moment is the follow up of workcamps that regularly organized between IIWC and NICE Japan by setting up a shelter. This shelter is used for children to learn their school subject and to gain soft skills such as handicraft.
Type activiteiten; Work: main work is running daily teaching activities in shelter (language classes, handicraft, arts, dance, etc) , promote shelter to be recognized by local youth ( youth club, high schools, or university) in order to get local volunteer that could help for daily teaching in shelter and activity with local people.
Accomodatie: Tegalrejo IIWC House family (minimum standard Javanese rent house); sleeping bag and mattress needed, self cooking
Taal: English
Locatie: Tegalrejo sub-village, Jatijajar village, Semarang, Central Java Indonesia
Beschrijving van de organisatie: IIWC (Indonesian International Work Camp) is one of PKBI (Eng: Indonesia Planned Parenthood Association) program who deal with IVS movement since 1999.