Education camp for under-privileged students-Ho Chi Minh
Dit project is onderdeel van het SCI Noord-Zuid programma. Vrijwilligers moeten minimum 20 jaar oud zijn, eerdere work@world – of andere Noord/Zuid ervaring hebben en deelnemen aan de voorbereidingsdag. Indien je je niet kan inschrijven en wel aan de criteria beantwoord, stuur een mailtje naar VIA op dit e-mailadres outgoing@viavzw.be

Camp code:
VN-VPV 7.20022
Onderwerp:
7: Kinderen en jeugd
Type activiteiten;
Les geven / Werken met kinderen / Studies over taal
Aantal vrije plaatsen voor mannen:
2
Aantal vrije plaatsen voor vrouwen:
5
Laatste update van het aantal vrije plaatsen:
25 feb 2020
Internationale minimum leeftijd
18 - 70
Nationale minimum leeftijd
18 - 70
Extra bedrag te betalen op het project ter plaatse:
230.00 Euro
Breakdown:
Accommodation and food: 0.00 Euro
Transportation: 0.00 Euro
Activities: 0.00 Euro
Hosting organisation support: 230 Euro
Doel van de extra kost:
Participation fee is requested to pay to VPV for food, accommodation and other project related expenses. VPV is a non-profit, voluntary organization with no external support, so we need your fees to organize and prepare workcamps and other related activities.
Vereiste taalkennis:
Engels
Gesproken taal / talen:
Engels
Motivatie brief:
Voor dit project is een motivatie brief vereist (Waarom kies je voor dit thema & project? Ervaring thema? Wat kan je als vrijwilliger bijdragen?)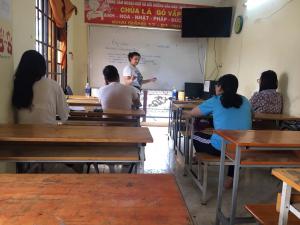 Beschrijving: For many under-privileged students, the chance to improve a foreign language, especially with a native teacher from that language is really difficult and rarely. The aim of the project is to help under-privileged students & children IN HO CHI MINH city a chance to improve foreigner language speaking & listening skill and to develop their communication skill on that language. There are 6 languages offered on the project: English, French, German, Japanese, Chinese & Korean. The local students after joining that project will have more opportunity to find a better job, while children improving their foreign language background.
Type activiteiten; Volunteers will spend time with the students and help to improve their language skill, organize games and other activities for them such as that volunteers can exchange culture with local student/children and understand the challenges on the life of children/students in Vietnam.
Accomodatie: Volunteers will stay in a dormitory, sharing rooms with volunteers of other nationalities joining the volunteering work. Normally, rooms are arranged with about 2-5 volunteers per room. In the busy time, the number can be maximum 7 or 9 volunteers per room in five bunk beds. Western toilets and hot showers are available.
Locatie: 778/3 Nguyen Kiem Street, Ward 4, Phu Nhuan District, HCMC, Viet Nam
Beschrijving van de organisatie: Volunteers For Peace Vietnam (VPV) is a non-profit, voluntary organization founded in 2005 with the aim to promote voluntary service as a mean of cultural and educational exchange among people, for peace and friendship, and as an approach to address social problems. VPV hosts international volunteers from different countries and places them in suitable projects depending on the interest of the volunteers and the needs of local communities. VPV also brings the opportunities for Vietnamese to join voluntary projects around the world. By joining our programs, volunteers will experience inter-cultural living and working environment and have a chance to help those in needs. Over the past 8 years VPV has welcomed over 4,500 international volunteers from over 30 different countries. VPV is working in various locations in Vietnam, including Hanoi and Ho Chi Minh City. VPV offers programs for individual volunteers and group volunteers, for duration from 1 week to 1 year. Our projects cover areas of education, child care, animal rescue and care, environment and community development, public health and medical support, cultural heritage preservation and youth action. Since 2008, VPV Ho Chi Minh has welcomed over 2,000 international volunteers.