Emmaus living and working community Eindhoven
Onderwerp:
5: Armoede en sociale ongelijkheid
Type activiteiten;
Vrede / Restoratie & renovatie / Sociale thema's
Laatste update van het aantal vrije plaatsen:
06 aug 2020
Internationale minimum leeftijd
18 - 99
Nationale minimum leeftijd
16 - 99
Vereiste taalkennis:
Engels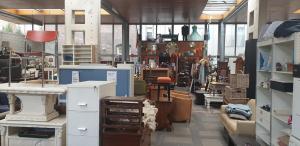 Beschrijving: Emmaus is an international solidarity-based movement, acting against poverty and exclusion. Its activities usually consist of recycling and selling things, while at the same time supporting people in need. The profit of the second-hand selling is being allocated to idealistic and/or disadvantages communities. Alongside the eight companions (mainly former homeless people together with idealists who choose to live and work there) who live at Emmaus Eindhoven, a number of volunteers are active at the organization. The community is based in an old monastery, shared with other idealistic organizations. During the project you will have the opportunity to temporary integrate in the life of the community
Type activiteiten; The volunteers will join the companions of Emmaus in Eindhoven at their daily work and routine. You will support the recycling process, by sorting out the goods that have been donated and helping at the second-hand shop. The volunteers will also do some painting at the part of the complex, meant as living-space of the inhabitants and support starting work in the garden. second-hand clothing shop.
Thema: The integration of so-called 'paradise-birds' (homeless people, undocumented migrants, former addicted people etc) in the Dutch society and the specific role of Emmaus in this respect.
Accomodatie: Partly in a garden-house, partly in tents. If possible, we would like to ask you to bring your own tent. But if not possible or difficult, please indicate this clearly in your application-form, so we can arrange otherwise. In any case, 1,5m physical distancing will be respected. Volunteers will cook and eat together with the companions
Locatie: Eindhoven is a city in the South in the Netherlands and perfectly reachable by train and bus.
Opmerkingen: The use of alcohol and drugs is not allowed at all at the campsite!