Theatre and music with kids (Luzern LU)
Thema:
7: Kinder und Jugendliche
Arbeitstypen:
Kunst / Arbeit mit Kindern / Studienteil, Diskussion, Recherche
Anzahl Freiwillige (max.):
15
Zahl verfügbarer Plätze
1
Letzte Aktualisierung der freien Plätze:
27 Sep 2018
Internationales Alter:
18 - 99
Nationales Alter:
18 - 99
Erforderliche Sprache:
Deutsch
Gesprochene Sprache(n):
Deutsch
Motivationsbrief:
Dieses Camp bedarf eines zusätzlichen Motivations-Briefes, in dem du erklärst, warum du daran teilnehmen möchtest.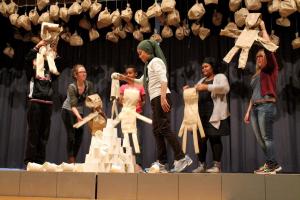 Projektbeschrieb: SCI organizes a theatre week for kids from refugee centers around Lucerne together with children living in Lucerne. The aim of this integrative project is to give the possibility to kids from refugee centers to have a rich exchange of experiences with local kids and to improve their German language skills in a creative context. This will be accomplished with a mix of theatre playing, music and games. At the end of the week (Saturday afternoon), there will be a presentation of the work. Up to 30 kids between 8 and 13 years old will participate in the project.
Art der Arbeiten: In the preparation week (the first week of the workcamp), volunteers will receive an introduction to migration issues, theatre playing and animation with children and will prepare the activities for the second week together with a theatre expert and a music pedagogue. During the second project week, volunteers will organize games and other activities for kids, accompany them from the refugee centers to the city and back, participate in the theatre sessions / music workshops and support the kids as well as the art expert with their help. A group of volunteers will cook lunch for the group. At lunch time some local volunteers help looking after the kids, so you can recover a bit.
Studien-Thema: During the first week, you will have introductions and discussions on relevant issues such as migration and asylum in Switzerland and on peace work. This theoretical knowledge will be helpful for the concrete work with the children in the second week.
Unterkunft: Simple accommodation with provided mattresses. Warm sleeping bag needed. One shower and toilet facilities are available in a separate building right next to the sleeping facility. There is a well equipped kitchen where you can prepare together with the other SCI volunteers your own meals with a provided budget.
Sprache: The camp language is German: level B1/B2 is required. A Skype-Interview might be required to test your language skills. If we realize here that the language skills are not sufficient, you won't be accepted. Local language is Swiss-German.
Voraussetzungen: Have interest in migration and intercultural issues, taking responsibility when working with kids, be creative, like cooking and participate in daily life.
Please send us your separate motivation letter and explain why you are interested in participating in this workcamp. If you already have some experience in working with kids, theatre, music or dance, please mention it.
Ungefähre Lage: Luzern
Anmerkungen: This workcamp is part of the international campaign "Building Bridges" which aims to raise awareness and stimulate the reflection about the current refugee crisis and forced migration in general. Through non-formal learning methods, participants will be able to share knowledge and experiences about the situation of refugees and asylum seekers in different countries as well as volunteering projects that locally support refugees and asylum seekers. Volunteers will be encouraged to think about how they can make a contribution to peaceful living together of people from all origins in their home town. You can see a video about the project here: https://www.youtube.com/watch?v=xMPhhITrIoI
Organisationsbeschrieb: SCI Switzerland is a non-profit-organisation which stands for intercultural exchange, sustainable development and non-violent conflict resolution. It is certified with the Intermundo-SQS-label, which guarantees high quality standards in youth exchange. SCI Switzerland has been organizing workcamps and long-term exchanges for volunteers worldwide since 1920. Each year, more than 100 volunteers from Switzerland engage in SCI projects abroad, while around 200 international volunteers work in projects in Switzerland. Swiss workcamps have a main focus on the work and exchange with children and youth living in asylum-seeking centres as well as environmental protection. In that line SCI Switzerland promotes a more environmental-friendly lifestyle in accordance with the goals of sustainable development. Therefore volunteers are expected to be aware of their environmental impact and encouraged to choose more eco-friendly means of transport. Please also check transportation costs within Switzerland before applying for our camps as this is expensive. Enter the place (to be found in the camp title) in the railway website www.sbb.ch. A participation in the camp from the first until the last day is needed for reason of instruction and group dynamic.