SAVWA Orphan Care Support
Dieses Projekt ist Teil der SCI Nord-Süd-Programme. Freiwillige sollten 20 Jahre alt sein, bereits Erfahrung in Freiwilligenarbeit haben und müssen an der Vorbereitung für den Austausch teilnehmen. Kontaktiere uns, um dich anzumelden: info@scich.org

Thema:
13: Gemeinschaftsleben
Arbeitstypen:
Lehrtätigkeit / Arbeit mit Kindern / Sozialer Bereich
Anzahl Freiwillige (max.):
5
Freie Plätze für Männer:
3
Freie Plätze für Frauen:
2
Letzte Aktualisierung der freien Plätze:
09 Jan 2019
Internationales Alter:
18 - 99
Nationales Alter:
16 - 99
Jedes Workcamp kostet eine Gebühr an den SCI Schweiz. Zusätzliche Gebühren im Einsatzland:
220.00 Euro
Grund der Extrakosten
The participation fee is strictly Euro 220 and this covers simple accommodation, food and project expenses office running/administrative expenses, certificate of participation during the camp, communication prior to, during and after the camp. Please note that this does not include travel expenses to and from the camp, pick up from airport so participants are asked to reserve a small amount of money for transport to the camp and vice-verse. We advise all volunteers to ask for advice from us when they are planning to book their ticket to Pretoria.
Erforderliche Sprache:
Englisch
Gesprochene Sprache(n):
Englisch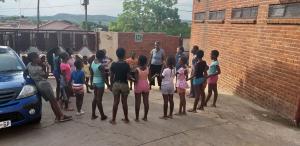 Projektbeschrieb: Providing support and care to orphans and improving their emotional situations and their level of acceptance with daily routines at either one or two orphanage homes called New BeginningZ (Laudium) or Kingdom Life (Attridgville). New BeginningZ has been in operation since 2001, with the main focus being Children living and working on the streets.In 2003, due to HIV/Aids Pandemic they included Child Headed Households to their focus group and in 2004 they had to include yet another vulnerable group - abandoned babies and toddlers. Kingdom Life Children's Center . A good-hearted woman resident in Atteridgeville realizing the urgent need for caring for the children in the area with no other place to go has established this home. Initially time and effort was invested in establishing it.
Art der Arbeiten: It is of paramount importance to us to render services and programs that is in the best interest of every individual child. Just as soon as you think you've seen the worst of cases, you come across yet another one. Abusers don't discriminate against colour, creed or age. Child Abuse is rife in South Africa and unfortunately not nearly enough is being done to protect the future of our country, the children. Government is shirking their responsibility when it comes to providing for destitute families therefore making it increasingly difficult for the poorest of the poor to survive. Abuse & Poverty are the main contributing factors to street children and abandoned baby statistics in our country. Volunteers will get first hand activities such as baby minding and cleaning the house.
Studien-Thema: 1. To be open-minded and "doer" type
Ready to stand out in front of the others and coordinate the children
Any knowledge of musical instrument, singing or dancing is highly welcome
Please bring some typical food & cookies & recipies & pictures & flags and if possible musical pieces, songs, instruments
Please also bring for the children (if it's possible) clothes& toys that you don't need and personal care products
Meals should be prepared by the volunteers for themselves (breakfast, lunch and sometimes dinner as well) – based on available ingredients for the day.
Unterkunft: Accommodation will be in rooms at the project center. Participants will be required to bring their own sleeping bags. The accommodation has a simple bathroom with shower and there is running water. The accommodation and work place have flushing toilets and do have electricity.
This will be a shared common space and be comfortable to share the rooms with other volunteers but with single bed and bunk beds.
Sprache: The community has multi-cultural people and English is mostly spoken with local languages such as Sotho, Zulu, and Tshwana to name a few.
Voraussetzungen:  That you show a willingness to work and to learn more about the specific topic of your work camp.  That you participate in the workcamp from it's very first till the very last day.  That you participate in daily tasks (cooking, cleaning, setting the table, etc.).  That you help to share responsibility by making suggestions for group activitites, discussions, games etc.
Anmerkungen: Warm clothes, Sleeping bag, sun cream, mosquito spray/lotion, sandals, working gloves and closed shoes are advisable. Rain coat, light working clothes during working hours and warm clothes at night, as it may turn out to be chilly; Torch or flash light. Do not bring jewellery or items of personal value please.