Spring holiday activities for asylum-seeking children (Zürich ZH)
Thema:
2: Flüchtlinge, Einwanderer und ethnische Minderheiten
Arbeitstypen:
Arbeit mit Kindern / Sozialer Bereich / Sport
Anzahl Freiwillige (max.):
7
Zahl verfügbarer Plätze
0
Letzte Aktualisierung der freien Plätze:
17 Apr 2019
Internationales Alter:
18 - 99
Nationales Alter:
18 - 99
Jede Vermittlung kostet CHF 160-190 zu Gunsten des SCI Schweiz + folgende Gebühr im Einsatzland:
0.00
Erforderliche Sprache:
Englisch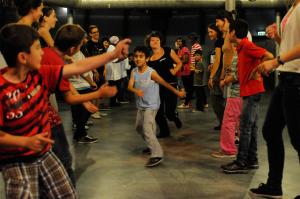 Projektbeschrieb: The project partner is a centre for asylum seekers. The centre houses families and children seeking asylum in the region of Zurich. The residents of the centre find themselves in the difficult situation of having to wait for the decision concerning their request for asylum which has great implications for their future. It is a tense period of time in which they live in the centre. The project partner offers small tasks in the way of work and activities to pass the time. Amongst other things the project partner runs a school, as in Switzerland schooling is compulsory for children. It is during the holidays, when the school is closed, that the project partner needs motivated volunteers to provide activities and structure for the children.
Art der Arbeiten: Providing activities, mainly for children (but open to other interested residents) during the spring holidays, such as sports, art, music, theatre, excursions etc. The centre is a large building without any outdoor spaces for activities. If you want do go outside with the children you need to leave the site. Please be aware of the fact that the situation of the residents in the centre may be emotionally challenging.
Studien-Thema: Being part of a workcamp in a centre for asylum seekers is a great way of contributing to a society in which everyone is treated with dignity and respect.
Unterkunft: SCI volunteers will stay in the school building, 15 minutes walk away from the centre. It is fully equipped with a kitchen, beds and toilet but no shower. The shower is located within the centre for asylum seekers. A washing machine will also be accessible in the centre. Lunch and dinner will be provided at centre, together with the asylum seekers. Breakfast will be provided by the project partner at the accommodation. Internet is only available at the centre. The project partner is currently looking into providing it at the accommodation.
Sprache: German, French, Italian, Peul, Olof, Ebo, Dari, Arabic, Farsi, Italian, Kurdish, Turkish, Georgian, Russian, Tigrinya, Amhari (languages differ, depending on the residents).
Anmerkungen: Unfortunately the project partner has no extra funds to provide any extra activities other than food and accommodation for the volunteers.
Organisationsbeschrieb: SCI Switzerland is a non-profit-organisation which stands for intercultural exchange, sustainable development and non-violent conflict resolution. It is certified with the Intermundo-SQS-label, which guarantees high quality standards in youth exchange. SCI Switzerland has been organizing workcamps and long-term exchanges for volunteers worldwide since 1920. Each year, more than 100 volunteers from Switzerland engage in SCI projects abroad, while around 200 international volunteers work in projects in Switzerland. Swiss workcamps have a main focus on the work and exchange with children and youth living in asylum-seeking centres as well as environmental protection. In that line SCI Switzerland promotes a more environmental-friendly lifestyle in accordance with the goals of sustainable development. Therefore volunteers are expected to be aware of their environmental impact and encouraged to choose more eco-friendly means of transport. Please also check transportation costs within Switzerland before applying for our camps as this is expensive. Enter the place (to be found in the camp title) in the railway website www.sbb.ch. A participation in the camp from the first until the last day is needed for reason of instruction and group dynamic.