Circus and theatre with kids (Tramelan BE)
Thema:
7: Kinder und Jugendliche
Arbeitstypen:
Kunst / Arbeit mit Kindern / Studienteil, Diskussion, Recherche
Anzahl Freiwillige (max.):
9
Zahl verfügbarer Plätze
0
Letzte Aktualisierung der freien Plätze:
19 Sep 2019
Internationales Alter:
18 - 99
Nationales Alter:
18 - 99
Jede Vermittlung kostet CHF 160-190 zu Gunsten des SCI Schweiz + folgende Gebühr im Einsatzland:
0.00
Erforderliche Sprache:
Französisch
Gesprochene Sprache(n):
Englisch, Französisch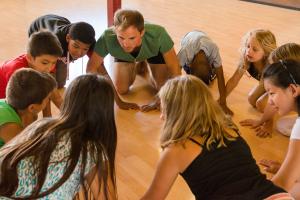 Projektbeschrieb: SCI organizes a circus and theatre week in Tramelan for kids from refugee centers together with children from this small city. The aim of this integrative project is to give the possibility to kids from refugee centers to have a rich exchange of experiences with local kids and to improve their local language skills in a creative context. This will be accomplished with a mix of theatre playing and circus activities. At the end of the second week, there will be a presentation of the work. About 30 kids between 6 and 18 years old will participate. The local organizer is an experienced SCI volunteer that organized similar projects before. The theatre and circus pedagogues (Nyan and Estelle) are professionals who have a great experience of social theater and circus workshop.
Art der Arbeiten: In the preparation week (the first week of the workcamp), you will receive an introduction to circus and theater activities as well as pedagogy tools to lead them with children. You will prepare the activities for the second week together with the circus and theatre pedagogues. During the project week, you will organize and lead games and circus and theater activities for kids with the help of the pedagogues. You may also accompany the kids from the refugee centers to the city. At lunch time you will help looking after them.
Studien-Thema: During the first week, you will have introductions and discussions on theater pedagogy and integrative games as well as on relevant issues such as migration and asylum in Switzerland and on peace work. You will also visit the refugee center and be able to talk with professionals and/or residents. This theoretical knowledge will be helpful for the concrete work with the children during the second week.
Unterkunft: You will have simple accommodation with beds in town. Please, bring your sleeping bag. Have in mind that two or more volunteers may be accommodated in one bedroom and there may be just one bathroom/toilet for the whole group. The cooking of daily meals you will organize yourselves together in the volunteer group, either with products or budget for shopping, provided by the project Tramelan is a small city of Jura Mountains, culturally rich but especially with a direct access to the nature and beautiful walking trails.
Sprache: French will be spoken with kids even if some of them may not be fluent yet. English can be used among the volunteers. If French isn't your mother tongue, we would invite you to a Skype-Interview to check your language skills (please send your Skype ID with the application, level B1/B2 is required). Local language is French but many people are French and Swiss-German bilingual.
Voraussetzungen: You should have interest in migration and intercultural issues, taking responsibility when working with kids, be creative and participate in daily life. Be prepared that the work with the kids in the second week is really rewarding, but also requires longer hours and can be tiring.
Anmerkungen: Some further information about those kinds of workcamps you find on www.theaterflucht.ch / www.theatreevasion.ch
Organisationsbeschrieb: SCI Switzerland is a non-profit-organisation which stands for intercultural exchange, sustainable development and non-violent conflict resolution. It is certified with the Intermundo-SQS-label, which guarantees high quality standards in youth exchange. SCI Switzerland has been organizing workcamps and long-term exchanges for volunteers worldwide since 1920. Each year, more than 100 volunteers from Switzerland engage in SCI projects abroad, while around 200 international volunteers work in projects in Switzerland. Swiss workcamps have a main focus on the work and exchange with children and youth living in asylum-seeking centres as well as environmental protection. In that line SCI Switzerland promotes a more environmental-friendly lifestyle in accordance with the goals of sustainable development. Therefore volunteers are expected to be aware of their environmental impact and encouraged to choose more eco-friendly means of transport. Please also check transportation costs within Switzerland before applying for our camps as this is expensive. Enter the place (to be found in the camp title) in the railway website www.sbb.ch. A participation in the camp from the first until the last day is needed for reason of instruction and group dynamic.