Dieses Projekt ist Teil der SCI Nord-Süd-Programme. Freiwillige sollten 20 Jahre alt sein, bereits Erfahrung in Freiwilligenarbeit haben und müssen an der Vorbereitung für den Austausch teilnehmen. Kontaktiere uns, um dich anzumelden: info@scich.org, 031 381 46 20.

Camp code:
ID-PKB 12.2013
Thema:
12: Kunst, Kultur und lokale Geschichte
Optionen:
Camp gemischten Alters
Arbeitstypen:
Kulturelles Erbe / Arbeit mit Kindern
Anzahl Freiwillige (max.):
12
Freie Plätze für Männer:
6
Freie Plätze für Frauen:
6
Letzte Aktualisierung der freien Plätze:
30 Dez 2019
Internationales Alter:
18 - 99
Nationales Alter:
16 - 99
Kosten: CHF 160-290 an den SCI Schweiz + im Einsatzland:
220.00 Euro [237 Swiss Franc]
Breakdown:
Accommodation and food: 0.00 Euro
Transportation: 0.00 Euro
Activities: 0.00 Euro
Hosting organisation support: 220 Euro
Grund der Extrakosten
The cost will cover the accomodation, Food, Material of the project, IIWC-Tshirt and Certificate of participation.
Erforderliche Sprache:
Englisch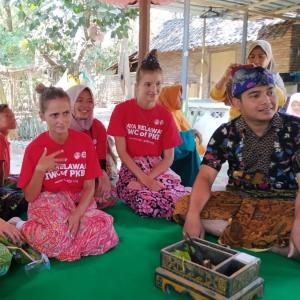 Description: IIWC of PKBI work together with one of the mother organization's branch (IPPA West Nusa Tenggara). Sengkoah Village is located on the border of Lombok Tengah regency, West Nusa Tenggara. This new village officially became one of the tourist villages in Lombok. Sengkoah Village became tourist village which can be said to be new and managed to be the winner of the best custom village in West Nusa Tenggara . The village has social and cultural potential. The village was built with the aim of eliminating the exploitation of children where children in the village were taught how to preserve their own culture. , they build this village into a child-friendly tourist village. where the villagers and children are productive by joining some activity that arrange by local community.
Type of Work: Help and learn together with community in guiding their child to learn about the culture, manage English classes for children, youth and local communities, conducting activities with the village community, intercultural learning, help local people promoting their village culture with their own social media, learn about Sasak culture in the view of the surrounding community.
Accommodation: Volunteer will stay with host family with shared toilet and bathroom. Sleeping bag is needed, food will be provided three times a day, and self management.
Language: English
Requirements: We do expecting that volunteers are open minded, tolerant, respect the local custom and culture, love to learn and share.
Approximate Location: Sengkoah-Labulia Village, Jonggat Municipality, Central Lombok Regency, West Nusa Tenggara, Indonesia
Notes: The project will take place in small village which all the villagers are family to each other. During leisure time, volunteers can visit beautiful hill nearby the camp site. Besides, Lombok island is also famous of its wonderful beaches that volunteers can visit.
Organization Description: IIWC (Indonesian International Work Camp) is one of PKBI (Eng: Indonesia Planned Parenthood Association) program who deal with IVS movement since 1999.