Arbeitstypen:
Umwelt / Manuelle Arbeit / Restauration, Renovierung
Anzahl Freiwillige (max.):
17
Freie Plätze für Männer:
5
Freie Plätze für Frauen:
3
Letzte Aktualisierung der freien Plätze:
17 Jul 2020
Internationales Alter:
18 - 30
Nationales Alter:
18 - 30
Erforderliche Sprache:
Englisch
Gesprochene Sprache(n):
Englisch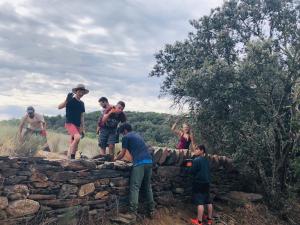 Description: The main goals of this workcamp are enhance the biodiversity of our Center, and improve the landscape for generations of donkeys and visitors to come; to enable the discovery of the Miranda Plateau, a unique rural region, rich in natural beauty, biodiversity, culture and traditions; and bringing together the young participants and the local community, therefore promoting intercultural (urban/rural, international/national) and intergenerational (youngsters/the elderly) encounters and exchanges
Type of Work: The tasks will focus in enhance biodiversity creating shelters, as birdhouses, bat houses or native pollinator houses, as well as the restoration of traditional dry walls that will transform themselves into ecosystems for amphibians, insects and a whole world of flora. Remove the rubbish and debris from streams caused by last winter's storm that affected our watercourses. Encourage work with the local community by developing activities in the villages of Teixeira and Atenor.
Accommodation: Basic housing with electricity, hot water, shower, WC, kitchen, dining room, bedroom (equipped with bunk beds) and barbecue area. Meals will be prepared by all the volunteers, taking turns, yet always accompanied by a cook. Breakfast, lunch, afternoon snacks, dinner, and night snacks will be provided.
Approximate Location: The camp will take place in the village of Teixeira/Atenor which lies in adjoining area the International Douro Natural Park (IDNP), about 5 Km from Sendim village (Miranda do Douro). Summer is often dry and characterised by notorious temperature swings – very high during the day (35ºC) and relatively low in the evening (10º-15ºC).