Planting the Feminist SEED: Sensitize - Empower - Engage - Dare!
Anreisedatum:
27 Jul 2020
Abreisedatum:
31 Jul 2020
Thema:
6: Geschlechtergleichheit und Sexualität
Arbeitstypen:
Frieden / Sozialer Bereich / Studienteil, Diskussion, Recherche
Anzahl Freiwillige (Max.):
15
Zahl verfügbarer Plätze:
15
Letzte Aktualisierung der freien Plätze:
22 Jun 2020
Mindestalter internationale Freiwillige:
16 - 99
Mindestalter einheimische Freiwillige:
16 - 99
Zusatzkosten im Einsatzland:
10.00 Euro [11 Swiss Franc]
Breakdown:
Unterkunft und Essen: 0.00 Euro
Transport: 0.00 Euro
Aktivitäten: 10.00 Euro
Unterstützung der Hosting-Organisation: 0 Euro
Grund der Extrakosten
The online workcamp fee is 10 euros, please make a money transfer on the following bank account and please send a proof of the payment: ES08 1550 0001 2200 0079 5922 The title of the bank transfer should be: Camps online 2020 + your name and surname. The payment is to cover the expenses paid to the experts who will give the talks and workshops.
Erforderliche Sprache:
Englisch
Gesprochene Sprache(n):
Englisch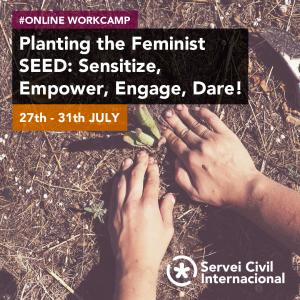 Description: Promoting global justice, equality and peace within the oppressed groups of the society and mutual understanding is one of the main focuses of SCI Catalunya. The aim of this online camp is to explore and deepen the knowledge (and possible misconceptions) about Feminisms and the LGBTIQA+ community, considering aspects that most of the times are ignored (such as inclusive language) by the society. The best way to do all this is by enhancing different conceptions related to cultures in order to achieve a broader understanding.
Type of Work: We would like to work with a daily schedule, starting at 10 am CEST with a video call to start the day together with some online dynamics. Тhe latest session would end at the latest 18h. In total, the online work camp will take no more than 5 hours per day. We plan it as an interactive online camp about feminism and gender. The participants would be asked to do different tasks in their household and/or outside which will consist in implementing the knowledge obtained from the sessions, exercises and debates.
Study Theme: This online camp will help you get more into the topics of gender equality and roles, the inclusive language, the feminist activist resistances around the world, the LGBTIQA+ community and the myths of sexuality. The camp will be organized through non-formal education online activities such as artivism, movies, music, discussions and creative workshops.
Accommodation: Zoom meetings
Requirements: A device with a good internet connection, a quiet environment as well as interest and passion towards the subject and mutual respect towards the participants, open-mindedness and respect.
Approximate Location: Our own comfy homes, rooms, chairs, beds. :)
Further notes: Previous experience on the topic is always a big plus when it comes to sharing information from different countries. However, people with basic knowledge are welcome too! Nevertheless, it is essential to bring a smile, to be energetic, positive and eager for more in the interactive sessions!
Organization Description: SCI Catalunya is the Catalan branch of SCI, one of the 2 SCI branches in Spain. We are based in Barcelona and our working area covers the Catalan countries (including Catalonia, Valencia, the Balearic Islands and Andorra). The other provinces of Spain are covered by SCI Madrid. SCI was founded in 1982 and he organization works on both a global and local level. On the global level, we organize international workcamps in the above mentioned territory Long Term Voluntary Projects (including EVS), trainings and seminars. . On the local level, we work to promote peaceful social transformation of society in order to encourage sustainable human development and a culture of peace, through volunteer groups, involving our community and local networks.