Building Walls - Breaking Walls Romandie (Bex VD)
Anreisedatum:
15 Aug 2021
Abreisedatum:
22 Aug 2021
Arbeitstypen:
Bauarbeiten / Kulturelles Erbe / Frieden
Anzahl Freiwillige (Max.):
20
Zahl verfügbarer Plätze:
3
Letzte Aktualisierung der freien Plätze:
02 Aug 2021
Mindestalter internationale Freiwillige:
18 - 25
Mindestalter einheimische Freiwillige:
18 - 25
Zusatzkosten im Einsatzland:
180.00 Swiss Franc
Breakdown:
Unterkunft und Essen: 90.00 Swiss Franc
Transport: 0.00 Swiss Franc
Aktivitäten: 90.00 Swiss Franc
Unterstützung der Hosting-Organisation: 0 Swiss Franc
Grund der Extrakosten
This workcamp in Switzerland exceptionally has a higher fee which has to be paid directly on the spot in cash to the local project partner. In this fee the SCI fee is included, so you do not get any bill from SCI.
Erforderliche Sprache:
Englisch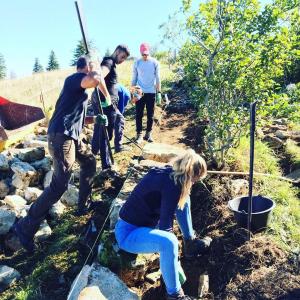 Description: Young adults (18 - 25) from Switzerland, Ireland and Northern Ireland, Israel and Palestine come together in the French part of Switzerland. You will explore the life and culture of the other participants, discuss conflicts and challenges around borders and walls in the different countries, cook together and experience the Swiss cultural heritage by building a dry stone wall in the mountains.
Type of Work: Around 7 days of the activity will be reserved for learning to work with stones and building the wall by hand.
Study Theme: Together with our friends from Ireland, Northern Ireland, Israel and Palestine we will exchange, discuss and present the intercultural challenges and both visible and invisible borders between the cultures in different countries.
Every day there will be one workshop where we will have an intercultural session in order to get to know each other's culture better.
Accommodation: The accommodation is called in small village called "Gryon". It is a typical Swiss chalet 10 minutes walking distance from the dry stone wall. You will have to bring a warm sleeping bag and clothes for the night. Matresses and pillows will be provided. Toilets and showers with hot water are available. No washing machine and no electricity in the sleeping rooms is provided, also no internet is available in the mountains. At the end of the week, volunteers are invite to spend the weekend in the city of Lausanne. There, electricity and internet is provided.
Language: Local language is French.
Requirements: Participants must be able to do physical work and to walk in the mountains (around 1 hour walk uphill per day). People will need proper warm outdoor and nature gear and clothes for working in the nature with hands, proper boots.
Further notes: Due to the remoteness of the place, mobile reception is restricted and there will be no internet on spot. Emergency internet can be organised. There is a responsible person in the kitchen, but he will be supported every day by three participants (from different countries). Each day, a new team will be responsible for the cooking and the cleaning. Due to sponsorship restrictions in this workcamp for the volunteers from Switzerland it is relevant that you have your residency in Switzerland - otherwise you are not eligible (in that case chose another workcamp without restrictions as this is usually the case in SCI workcamps).
Organization Description: SCI Switzerland is a non-profit organisation which promotes intercultural exchange, sustainable development and non-violent conflict resolution. It has been organizing workcamps and long-term exchanges for volunteers worldwide since 1920. Each year more than 100 volunteers from Switzerland engage in SCI projects abroad, while around 200 international volunteers participate in projects in Switzerland. SCI Switzerland is certified by the Intermundo quality label, which guarantees high quality standards in youth exchange. Swiss workcamps are mainly focused on the work with youth as well as in the area of environmental protection. That is why among SCI Switzerland`s values is also an environmentally friendly lifestyle in accordance with the ideas of sustainable development. Volunteers are encouraged to be eco-friendly, especially when travelling to Switzerland and during the projects. Before applying be aware of high travel costs within Switzerland and check prices on the railway website www.sbb.ch. A participation in the camp from the first until the last day is needed for reason of instruction and group dynamic.