Umwelt- und Sozialeinsatz für Jugendliche auf der Alp Loasa (Bruzella TI)
Anreisedatum:
02 Aug 2021
Abreisedatum:
07 Aug 2021
Arbeitstypen:
Bauarbeiten / Manuelle Arbeit / Restauration, Renovation
Anzahl Freiwillige (Max.):
13
Zahl verfügbarer Plätze:
2
Letzte Aktualisierung der freien Plätze:
30 Jul 2021
Mindestalter internationale Freiwillige:
16 - 25
Mindestalter einheimische Freiwillige:
16 - 25
Zusatzkosten im Einsatzland:
60.00 Swiss Franc
Breakdown:
Unterkunft und Essen: 60.00 Swiss Franc
Transport: 0.00 Swiss Franc
Aktivitäten: 0.00 Swiss Franc
Unterstützung der Hosting-Organisation: 0 Swiss Franc
Grund der Extrakosten
This is a special cooperation where the project is planned directly through our partner.
Erforderliche Sprache:
Deutsch
Gesprochene Sprache(n):
Deutsch, Italienisch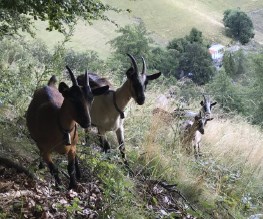 Description: Auf der Alpe Loasa oberhalb von Bruzella im Südtessin stehen die Berge, Tiere und Gemeinschaft mit andern Jugendlichen und jungen Erwachsenen im Mittelpunkt.
Type of Work: Auf dem Bio-Bergwirtschaftsbetrieb tun wir, was gerade ansteht: Heuen, Holz hacken, Steinschlagschutz bauen, Wegunterhalt oder auf dem Feuer kochen. Damit unterstützen wir die Pächter der Alp bei ihrer Arbeit und Abwechslung gibt's durch eine Wanderung an die Grenze, ein Gesellschaftsspiel oder die Siesta in der Hängematte. Einfach mal was Anderes tun – bist du dabei?
Accommodation: Gruppenzimmer im Alp-Gebäude
Organization Description: SCI Switzerland is a non-profit organisation which promotes intercultural exchange, sustainable development and non-violent conflict resolution. It has been organizing workcamps and long-term exchanges for volunteers worldwide since 1920. Each year more than 100 volunteers from Switzerland engage in SCI projects abroad, while around 200 international volunteers participate in projects in Switzerland. SCI Switzerland is certified by the Intermundo quality label, which guarantees high quality standards in youth exchange. Swiss workcamps are mainly focused on the work with youth as well as in the area of environmental protection. That is why among SCI Switzerland`s values is also an environmentally friendly lifestyle in accordance with the ideas of sustainable development. Volunteers are encouraged to be eco-friendly, especially when travelling to Switzerland and during the projects. Before applying be aware of high travel costs within Switzerland and check prices on the railway website www.sbb.ch. A participation in the camp from the first until the last day is needed for reason of instruction and group dynamic.