Rediscovering Soviet Heritage (Frankfurt/Oder)
Topic:
12: Art, culture and local history
Work Types:
kulturelles Erbe / sozialer Bereich / Studienteil, Diskussion, Recherche
Number of places still available:
7
Last update on free places
02 Aug 2017
International age:
18 - 99
Extra fee to be paid in the hosting country:
0.00
Required Language:
Englisch
Spoken Language:
Englisch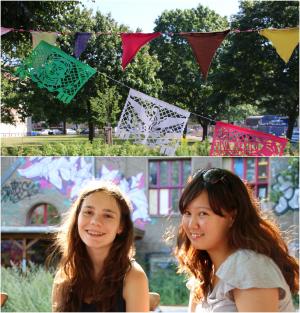 Description: The east of Germany has a common heritage of the socialist time together with Ukraine and Russia. Within this project, on the occasion of the 100th Anniversary of the October Revolution, it will be discovered how this heritage is treated today. The re-naturalized mining area near Frankfurt (Oder), the museum of GDR everyday culture in the planned city of Eisenhüttenstadt and the customs and traditions of people living in the twin cities of Frankfurt (Oder) and Slubice will give an idea of what socialist heritage means to the people in Germany/Poland today. Together with the experiences from Russia and the Ukraine we will gather best and worst practice examples of initiatives to deal with the socialist past. We will encourage new ideas of innovative approaches.
Type of Work: The major part of the project will be used to discover different ways of treating the heritage. This includes the visits of different sites and the contact with various people, initiators and artists. During reflections within the group we will find out advantages and disadvantages of these approaches and try to identify what methods would work best for the places where we come from. It is planned to compile them and make the results available to a wider public. Together with local artists and the Institute of Applied History ideas will be brainstormed for a final visibility event in Frankfurt (Oder).
Study Theme: As broader themes, questions of identity and the use of history will be touched. This plays an important role when discussing approaches of how local identity changes over time and what influences how its direction is determined.
Accommodation: Basic conditions, self-catering
Approximate Location: Frankfurt (Oder) is located at the Polish –German border, one hour by train from Berlin. It is surrounded by quiet landscapes in the East of the German state Brandenburg.
Notes: This camp is open only for participant coming from Ukraine, Russia and Germany.
Organization Description: This workcamp is organized by the German branch of Service Civil International (SCI). SCI Germany was founded in 1946 and is approved as a non-profit organisation. We are one of the oldest peace and volunteer organisations. SCI Germany aims to promote peace, non-violence, international solidarity, social justice, sustainable development and cross-cultural exchange through international voluntary work. We cooperate with a network of branches and partners in more than 90 countries. Every year, SCI Germany organizes about 50 international workcamps in Germany.