Pekalongan Happy Children
Dieses Projekt ist Teil des SCI Nord-Süd-Austausch. Freiwillige sollten Erfahrungen mit Freiwilligenarbeit haben und an einem Vorbereitungsseminar teilnehmen. Genauere Informationen erhältst du hier: http://www.sci-d.de/workcamps-im-globalen-sueden

Thema:
7: Children and youth
Work Types:
Arbeit mit Kindern / sozialer Bereich
Anzahl an Freiwilligen:
12
Free places for Females:
6
Letztes Update der freien Plätze:
10 Okt 2018
Alter für internationale Freiwillige:
18 - 99
Alter für Freiwillige aus dem Land:
16 - 99
Zusatzgebühr, die an die Partnerorganisation im Gastland zu entrichten ist:
2950000.00 Indonesian Rupiah
Weitere im Camp gesprochene Sprachen:
Englisch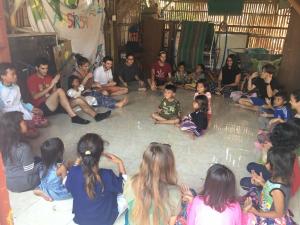 Beschreibung: Pekalongan is 100 km from Semarang. It is about two hours by bus or one and half hour by train to the west. This project site consists of 2 different project areas with 2 different characters. Pasirsari. The children in Pasirsari are interested in educational activities after school. There are approximately 10 until 50 children and the amount is changing at any time. The age of the children starts from 5 – 18 years old. Volunteering activity will be in public learning center in Pasirsari. Bugisan is a slum area on the river bank. The are around 10 children joining the activities daily. They are cute and they are shy when they meet new people. The children love to have games or other fun learning methods prepared by volunteers and they like to do activities near the street
Art der Arbeit: 1. Organizing interesting-creative activities to motivate the children to keep continue their study or go back to school;
Organizing various skill development activities, such as ( Painting, drawing, etc);
Giving additional lesson to support children education, such as ( English lesson,etc)
Raising awareness of children's personal hygiene like washing hand, brushing teeth, etc. Note: 25 to 40 hours/week. Sometimes the volunteers are needed to support GREAT to do other voluntary action during the weekends.
Studienteil: Kids, Education, Social
Unterkunft: Pekalongan volunteer house. Volunteers will stay in a shared house with other volunteers. Fridge is available. Volunteer must take care of their own meals and cover personal expenses. Gas for cooking and water gallon are covered by donation from international volunteers and local volunteers (not covered by participation fee).
Campsprache: English, Bahasa Indonesia for kids
Voraussetzungen: Strong motivation and interest in non formal learning methods for kids and able to work alone.
Ungefähre Lage: Pekalongan City, Central Java, Indonesia. Batik City rich of culture. https://goo.gl/maps/iqHr8DZL86G2
Bemerkungen: Weather can be up to 40 degree Celsius with 80% humidity. Less hygiene condition.