Mangkang Enviromental Camp I
Dieses Projekt ist Teil des SCI Nord-Süd-Austausch. Freiwillige sollten Erfahrungen mit Freiwilligenarbeit haben und an einem Vorbereitungsseminar teilnehmen. Genauere Informationen erhältst du hier: http://www.sci-d.de/workcamps-im-globalen-sueden

Camp code:
ID-PKB 11.1902
Thema:
11: Climate and sustainable lifestyle
Besondere Themen:
"Climate for Peace" Programm/Kampagne
Anzahl an Freiwilligen:
12
Free places for Females:
6
Letztes Update der freien Plätze:
01 Nov 2018
Alter für internationale Freiwillige:
18 - 99
Alter für Freiwillige aus dem Land:
16 - 99
Zusatzgebühr, die an die Partnerorganisation im Gastland zu entrichten ist:
180.00 Euro
Purpose of extra costs:
The cost will cover the accommodation, Food, Material of the project, IIWC-Tshirt and Certificate of participation.
Weitere im Camp gesprochene Sprachen:
Englisch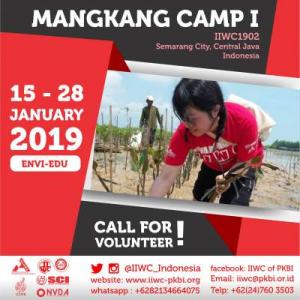 Beschreibung: Mangkang is a fisher and farmer village located in west Semarang. This project has become annually and continuously project organized by IIWC in answering the needs of preserving the coastal side of North Java Sea in Mangkang. About 1,1 km costal line in Mangkang area is now in danger due to the abrasion of the sea, cutting mangrove by local people and heavy force from the river flows. Before, many kinds of fish and shrimps are living there, but now since the condition of the mangrove forest is getting worse, it is quitedifficult to find the species anymore. Fisherman also needs to go further to the ocean to fish and it means much work they need to do to earn money. Mangkang is the project site forIIWC World Tanabata Action of CCIVS UNESCO and Climate4Peace of SCI International.
Art der Arbeit: Work: Planting mangrove and other trees in beach, environment education garbagemanagement discussion to local people and local children, some physical activity to supportgarbage management program in this are, school visits for environment education, greencampaign in city centre, and manage the mangrove fruits to be snacks or foods andpromote it. A testimony of previous volunteer from Lithuaniahttp://volunteersways.blogspot.ch/
Unterkunft: IIWC Volunteer house, sleeping bag is needed, self cooking, and selfmanagement.
Organization Description: IIWC (Indonesian International Work Camp) is one of PKBI (Eng: Indonesia Planned Parenthood Association) program who deal with IVS movement since 1999.