Megalithic Village Camp I
Dieses Projekt ist Teil des SCI Nord-Süd-Austausch. Freiwillige sollten Erfahrungen mit Freiwilligenarbeit haben und an einem Vorbereitungsseminar teilnehmen. Genauere Informationen erhältst du hier: http://www.sci-d.de/workcamps-im-globalen-sueden

Camp code:
ID-PKB 13.1903
Thema:
13: Community life
Work Types:
Arbeit mit Kindern / Restauration, Renovierung
Anzahl an Freiwilligen:
15
Free places for Females:
7
Letztes Update der freien Plätze:
01 Nov 2018
Alter für internationale Freiwillige:
18 - 99
Alter für Freiwillige aus dem Land:
16 - 99
Zusatzgebühr, die an die Partnerorganisation im Gastland zu entrichten ist:
220.00 Euro
Purpose of extra costs:
It will cover foods, accommodation, and local transport for project, IIWC T-shirt, certificate of participation, management fee and material for the camps.
Weitere im Camp gesprochene Sprachen:
Englisch
Motivationsschreiben:
This camp requires an additional motivation letter to explain in more detail why you would like to attend.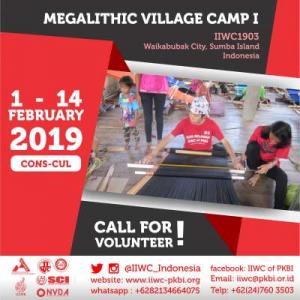 Beschreibung: A Megalithic Village Heritage Project is located in Prai Ijing Village of Sumba Island. Prai Ijing Village is a traditional village, where you can find traditional houses. In this village, we can find the uniqueness of the house with the structure of the building. The village has many stories and tradition that the local people still apply it However, the village needs more to set up the infrastructure and the community needs to manage their village to be clean as well. Also, since many visitors are foreigner, the local could not explain the beauty of their culture in English.
Art der Arbeit: Set up the infrastructure of the village, Waving and making handicraft with local mothers, village maping, helping the local feeding their animals, and also visiting the local school nearby the village.
Unterkunft: The volunteers will stay in a traditional house together with local people with a shared toilet and bathroom. The location is Prai Ijing Village, West Sumba Regency.
Organization Description: IIWC (Indonesian International Work Camp) is one of PKBI (Eng: Indonesia Planned Parenthood Association) program who deal with IVS movement since 1999.