Community Farming Project
Dieses Projekt ist Teil des SCI Nord-Süd-Austausch. Freiwillige sollten Erfahrungen mit Freiwilligenarbeit haben und an einem Vorbereitungsseminar teilnehmen. Genauere Informationen erhältst du hier: http://www.sci-d.de/workcamps-im-globalen-sueden

Thema:
13: Community life
Optionen:
Camp gemischten Alters
Work Types:
Landwirtschaft / Umwelt
Anzahl an Freiwilligen:
15
Anzahl an freien Plätzen:
15
Letztes Update der freien Plätze:
16 Feb 2019
Alter für internationale Freiwillige:
18 - 99
Alter für Freiwillige aus dem Land:
16 - 99
Zusatzgebühr, die an die Partnerorganisation im Gastland zu entrichten ist:
2970000.00 Indonesian Rupiah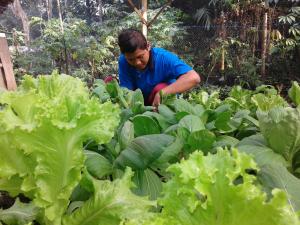 Beschreibung: Semarang urban life quality has decrease in the last decades. This problem comes to lack of ecological friendly lifestyle in the urban area and urban society are not well informed to start their green project. The change of lifestyle of youngster in the city become damage to city life environment pushes us to make a movement to drag our society back to preserve nature.
Art der Arbeit: You will learn and work at our in two eco-farming activity center with two condition: in village & the city. You will support our local partner to plant their plant and how to sell their product and make their own market (direct contact with their customer). You also have a chance to be part of our workshop/seminars/visits for local student, universities, local community, and local government to promote eco-friendly lifestyle through agriculture.
Studienteil: This is agricultural project focused on people who stay in the city and existed farmer family in village to support them to make their own market. You will cooperate with local farmer community and local youth on activating eco-farming activity center in Semarang City & Semarang Regency area.
Unterkunft: In both living condition (village & City) you will stay with moslem host family. You should be open minded to adapt the local culture.
Voraussetzungen: You will work mostly with local community the schedule will be changeable depend on their availability. This program requires some volunteers to have: Social work, Management, Administration and economic development education background will be desirable, High motivation to learn simple Bahasa Indonesia to communicate with local people; & has experiences in organize training, and simple workshop.
Ungefähre Lage: Urban Farming Activity Center will take place in Kembang Arum Village.
Bemerkungen: The majority of the communities are Moslem. Most of them are living in poor condition.
Semarang regency was a major trade city Dutch colony era. You are able to visit some historical sites and get to know more deep about the history of each places.