Thema:
12: Art, culture and local history
Anzahl an Freiwilligen:
8
Free places for Females:
0
Letztes Update der freien Plätze:
31 Jan 2020
Alter für internationale Freiwillige:
18 - 88
Alter für Freiwillige aus dem Land:
18 - 88
Zusatzgebühr, die an die Partnerorganisation im Gastland zu entrichten ist:
100.00 Euro
Breakdown:
Unterkunft und Verpflegung: 0.00 Euro
Transport: 0.00 Euro
Aktivitäten: 0.00 Euro
Unterstützung der Gastgeberorganisation: 100 Euro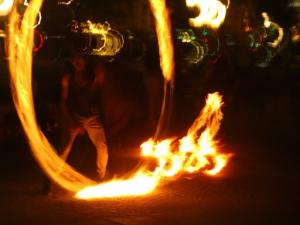 Beschreibung: A real Vikings Village (http://www.viikingitekyla.ee) lies about 40 km outside of Estonian capital Tallinn. Guests and families can visit it and spend time there, having a variety of activities such as arrow shooting, strong hold fights, handicraft workshops, fight and competition events and much more. Village needs constant attention and work to keep it ready for visitors and to develop further. Both in summer and winter there are many tasks to be done and volunteers are invited to help these works.Furthermore, good friends of the Village are Fire Artists community, who organize their trainings and events there. Fire Artists Association was founded to raise awareness of Fire arts, to offer everyone a possibility to learn and perform with any kind or type of Fire Arts. They also promote standards of Fire safety for Fire artists and cooperate with local rescue department. Fire Artists Association will have a little Festival in Vikings Village this winter. To run it they need some construction and preparation help. So, they invite international volunteers to help it out. This camp is for people who want to try real Estonian winter, do not afraid of hard work and wants to feel like a real Viking
Art der Arbeit: Most of the work will be done in Vikings Village and it will be outdoors. The work involves, for example, carrying and chopping wood, cleaning wood, some construction and deconstruction works and other tasks around the Village. Some help will be needed also for the Fire Artists event, that takes place during the camp. i such as constructing the stage, carrying things to the event area, cleaning area, set up tents and the whole event area, etc. Be prepared for low winter temperatures outside and being outdoors a lot.
Unterkunft: Volunteers will live in the Viking s Village in a common room. Please bring a warm sleeping bag. Toilet and shower are available, also there will be sauna. Volunteers will have at least one meal per day cooked by the villagers, other times volunteers will prepare food by yourselves on a campfire outdoors.
Campsprache: eng,eng
Voraussetzungen: Please bring warm sleeping bag, warm winter clothes, water resistant warm clothes, hat, gloves, socks and good boots. It is advisable to bring a flashlight. But please take also one set of nicer evening clothes. Be ready for temperatures from 5 to -20C. Be ready to spend most of the days outdoors with any kind of weather, do hard physical work, sometimes for long hours but then having warm relaxing evenings around fire or in sauna It is good if you have skill with fire, camping, resilience and 61514; Motivation letter is required. Camp language is English.
Ungefähre Lage: LocationSaula is a small area in Kose Community, about 40 km outside Tallinn, the capital of Estonia. You can get a lot of information on Tallinn on www.tallinn.ee and www.visitestonia.com. More information on Vikings Village is on www.viikingitekyla.eeLEISUREVolunteers are welcome to enjoy the beautiful area of the Village and winter forest around. You will learn and experience a lot about Vikings, their traditions and lifestyle. You will also learn some about Fire and have a Fire safety and first aid training. In the evenings you can expect sitting around a camp Fire or in hot sauna with new friends. Finally, you can see Fire Artists show by the end of the camp.