Termine sind noch nicht bestätigt - bitte bewirb dich zu einem späteren Zeitpunkt!

Thema:
10: Environment protection
Work Types:
Umwelt / Studienteil, Diskussion, Recherche
Anzahl an Freiwilligen:
10
Anzahl an freien Plätzen:
8
Letztes Update der freien Plätze:
20 Mär 2020
Alter für internationale Freiwillige:
18 - 99
Alter für Freiwillige aus dem Land:
16 - 99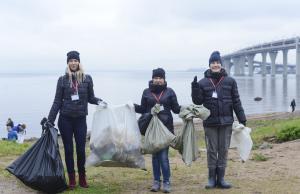 Beschreibung: Spend 4 days in one of the most beautiful cities of Russia. Take part in seminar, know from the inside how to hold an ecological game and sign an agreement to hold your own Clean Game in your country! During the camp volunteers will participate in the seminar, which aims at environmental problems, in particular pollution. Clean Games is a team-based trash clean-up competition. We help to keep local parks clean, something exciting to do over the weekend, it's a fun competition for the whole family, the best teams win a prize and everyone gets a free lunch.
Web-site of the project https://cleangames.ru/
Art der Arbeit: Participants will take part in the seminar.
We will tell you how to organize Clean Games from A to Z (methods, fundraising, PR, interaction with local community, interaction with sponsors and partners).
Holding a Game - Take part in preparation of the game. This game will be held later, on May 18, with the participation of other interested parties, during the spring ecological tournament.
Participate in City Quest - We will organize a cultural programme for workcamp participants. You will get to know St. Petersburg with the city quest "Running City".
Studienteil: • Teach participants about the consequences of pollution • Involve more volunteers in the beautification of local parks • Train new organizers in our unique methodology for cleaning trash
Unterkunft: Location of the workcamp is St. Petersburg, Resource center for volunteers and non-profit organizations of St. Petersburg "Headquarters". Volunteers will stay in a cozy hotel/hostel in Saint Petersburg. Showers and toilets will be provided. Food: food will be served 3 times a day in the cafeteria. Volunteers will not cook themselves. Food for vegetarians can be provided.
Voraussetzungen: It is mandatory to bring warm clothes for a full day's work on the street, the rest of the day will be spent indoors, it is desirable to have an umbrella.
Ungefähre Lage: St. Petersburg
Bemerkungen: Exact dates will be confirmed closer to the summer, let the volunteers not take tickets yet!
Since October 2019 it's possible to enter Saint-Petersburg and its region for maximum 8 days with electronic visa which can easily be obtained online. We will give you instructions.
Desirable requirements for participants: active young people with organizational skills (having experience in organizing any events, experience is welcome, but not required), environmentally oriented, interested in improving the environment and ready for action.
Extra time may be required to decide on the participation of volunteers from partners.