Ky Quang Pagoda -Ho Chi Minh
Dieses Projekt ist Teil des SCI Nord-Süd-Austausch. Freiwillige sollten Erfahrungen mit Freiwilligenarbeit haben und an einem Vorbereitungsseminar teilnehmen. Genauere Informationen erhältst du hier: http://www.sci-d.de/workcamps-im-globalen-sueden

Camp code:
VN-VPV 7.20034
Thema:
7: Children and youth
Work Types:
Arbeit mit Kindern / manuelle Arbeit / sozialer Bereich
Anzahl an Freiwilligen:
7
Free places for Females:
5
Letztes Update der freien Plätze:
25 Feb 2020
Alter für internationale Freiwillige:
18 - 70
Alter für Freiwillige aus dem Land:
18 - 70
Zusatzgebühr, die an die Partnerorganisation im Gastland zu entrichten ist:
230.00 Euro
Breakdown:
Unterkunft und Verpflegung: 0.00 Euro
Transport: 0.00 Euro
Aktivitäten: 0.00 Euro
Unterstützung der Gastgeberorganisation: 230 Euro
Purpose of extra costs:
Participation fee is requested to pay to VPV for food, accommodation and other project related expenses. VPV is a non-profit, voluntary organization with no external support, so we need your fees to organize and prepare workcamps and other related activities.
Weitere im Camp gesprochene Sprachen:
Englisch
Motivationsschreiben:
This camp requires an additional motivation letter to explain in more detail why you would like to attend.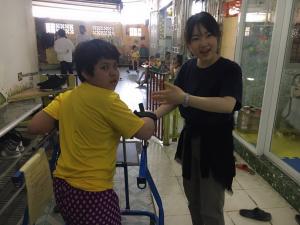 Beschreibung: Ky Quang Pagoda was built in the early part of the 20th Century in 1924 and is quite famous in Ho Chi Minh City. The pagoda is now a place of charity for unlucky children and also helps treat diseases. Now, the pagoda is taking care and bringing up more than 100 children in the South of Vietnam.
Art der Arbeit: volunteers will spend time with the children and help to improve their English, organize games and other activities for them. Volunteers will also do some manual work such as cleaning, renovation, etc depend on the need of orphanage/pagoda. Volunteers will get closer to the children's life and try to build up a wider horizon for the children and encourage them to learn better for the brighter future. There are a possibility to support children with disability on the disabled children room.
Unterkunft: Volunteers will stay in a dormitory, sharing rooms with volunteers of other nationalities joining the volunteering work. Normally, rooms are arranged with about 2-5 volunteers per room. In the busy time, the number can be maximum 7 or 9 volunteers per room in five bunk beds. Western toilets and hot showers are available.
Ungefähre Lage: 778/3 Nguyen Kiem Street, Ward 4, Phu Nhuan District, HCMC, Viet Nam
Organization Description: Volunteers For Peace Vietnam (VPV) is a non-profit, voluntary organization founded in 2005 with the aim to promote voluntary service as a mean of cultural and educational exchange among people, for peace and friendship, and as an approach to address social problems. VPV hosts international volunteers from different countries and places them in suitable projects depending on the interest of the volunteers and the needs of local communities. VPV also brings the opportunities for Vietnamese to join voluntary projects around the world. By joining our programs, volunteers will experience inter-cultural living and working environment and have a chance to help those in needs. Over the past 8 years VPV has welcomed over 4,500 international volunteers from over 30 different countries. VPV is working in various locations in Vietnam, including Hanoi and Ho Chi Minh City. VPV offers programs for individual volunteers and group volunteers, for duration from 1 week to 1 year. Our projects cover areas of education, child care, animal rescue and care, environment and community development, public health and medical support, cultural heritage preservation and youth action. Since 2008, VPV Ho Chi Minh has welcomed over 2,000 international volunteers.