Eco life with Seediq Indigenous Tribe in Alan-Tongan
Dieses Projekt ist Teil des SCI Nord-Süd-Austausch. Freiwillige sollten Erfahrungen mit Freiwilligenarbeit haben und an einem Vorbereitungsseminar teilnehmen. Genauere Informationen erhältst du hier: http://www.sci-d.de/workcamps-im-globalen-sueden

Camp code:
TW-VYA 12.2016
Land:
Taiwan, Republic of China
Thema:
12: Art, culture and local history
Work Types:
Landwirtschaft / Umwelt / sozialer Bereich
Anzahl an Freiwilligen:
8
Free places for Females:
4
Letztes Update der freien Plätze:
28 Feb 2020
Alter für internationale Freiwillige:
18 - 99
Alter für Freiwillige aus dem Land:
16 - 99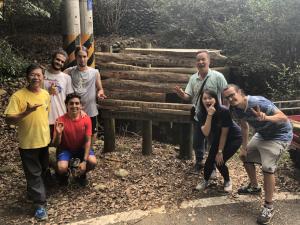 Beschreibung: The reason of implement this project is: first, aboriginal traditional culture gradually faded. Second, environment and economic being depression after natural disaster. Third, the butterflies habitats and resources are damaged severely. To avoid getting worse, Alan-Tongan residents needs that volunteers assists, to propagate Seediq culture, replanting aboriginal plants, and rebuild the butterflies ecosystem. To inherit tribal culture and achieve harmonious coexistence between human and natural.
Art der Arbeit: Sustainable industry and biodiversity, the target of《Satoyama Initiative》, ecology and economy both are important targets for nature conservation and local development. The Alang Tongan is a focal point resource area for butterflies, also the location of Seediq tribe.However, due to the natural disaster and culture decline, many species getting decrease. So, building natural environment is primary goal. During these 16 days, we'll going to transplant the aboriginal plants or Endemic plants that tribe planting into natural forest. To implement replanting plants and enhance agricultural economic output.
Unterkunft: Guest house of Alang Tongan association. Sleep in shared room with wooden bed. Showers and toilets are available. Food will be offered by association.
Ungefähre Lage: Location: No. 80, Songyuan Ln., Ren'ai Township, Nantou County 546, Taiwan . (南投縣仁愛鄉松原巷80號)
Google Map: N:24°00'52.7" E:121°05'22.2" https://www.google.com/maps/place/546%E5%8D%97%E6%8A%95%E7%B8%A3%E4%BB%81%E6%84%9B%E9%84%89%E6%9D%BE%E5%8E%9F%E5%B7%B780%E8%99%9F/@24.0070916,121.0854944,17z/data=!3m1!4b1!4m5!3m4!1s0x3468c349ca15799d:0x63c1758a447b5fe4!8m2!3d24.0070916!4d121.0876831