Computer literacy and cine-debate
Dieses Projekt ist Teil des SCI Nord-Süd-Austausch. Freiwillige sollten Erfahrungen mit Freiwilligenarbeit haben und an einem Vorbereitungsseminar teilnehmen. Genauere Informationen erhältst du hier: http://www.sci-d.de/workcamps-im-globalen-sueden

Thema:
7: Children and youth
Work Types:
Lehrtätigkeit / Arbeit mit Kindern
Anzahl an Freiwilligen:
10
Free places for Females:
5
Letztes Update der freien Plätze:
24 Jun 2020
Alter für internationale Freiwillige:
18 - 99
Alter für Freiwillige aus dem Land:
16 - 99
Zusatzgebühr, die an die Partnerorganisation im Gastland zu entrichten ist:
200.00 Euro
Breakdown:
Unterkunft und Verpflegung: 80.00 Euro
Transport: 35.00 Euro
Aktivitäten: 50.00 Euro
Unterstützung der Gastgeberorganisation: 35 Euro
Purpose of extra costs:
The participation fee is a contribution requested by Astovot from volunteers participating in international projects. Astovot as any association in Togo does not benefit from any subsidy from the Togolese State. It is the participation fees of the volunteers that enable Astovot to finance its projects. The cost of participation in volunteer workcamps amounts to 200€ per person for 2 to 3 weeks. This participation will cover : accommodation costs; food; accompaniment of the group; administrative costs; purchase of materials and equipment for the project.3/4 for the project and 1/4 organisation.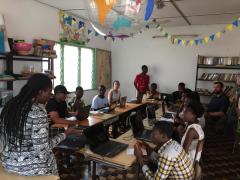 Beschreibung: Access to computer tools is still very limited in schools and universities in Togo. As a consequence, a large majority of Togolese pupils and students do not master computer tools. The NGO ASTOVOT sets up for the benefit of students in the commune of Kpalimé basic and practical courses in computer science and Internet tools for a period of three (3) weeks. The modules will focus on: discovery of computers and familiarization with a computer, connection, navigation, e-mail, downloading software and transfer of text and image files, discovery of social networks. In addition to the courses, the project offers the opportunity to make film and documentary screenings to the children in the afternoons with debates and intercultural exchanges between volunteers and the children. ASTOVOT has DVDs
Art der Arbeit: - Learning how to use the computer and its accessories;
Discovering the internet, search engines, web browsers ;

Showing documentary films which in the end provoke debate and exchange of ideas among children; Work First part :

Registration of pupils and students interested in the training + presentation of the training program ;

Implementation of the training program ;

Evaluation and delivery of certificates to the participants Second part :

Choice of films or documentaries;

Arrangement of the projection space ;

Preparation and installation of the projection equipment

Supervision of children ;

Screening of the film or documentary;

Intercultural debates and animations ASTOVOT has a computer pack of more than ten laptops and projection equipment
Unterkunft: On site of project: Accommodation conditions are generally rudimentary (especially in rural areas). The group is housed together in a house in which the volunteers have to share rooms (usually 2 to 4 rooms). We have small mattresses and plastic mats that will be used as bedding for the volunteers. Because the houses are often not equipped with beds. However, volunteers can provide small inflatable mattresses or small floor mats, sleeping bags, mosquito nets, etc.
Campsprache: French and English are the two languages of the project. However, French is the official language spoken in Togo. It is advisable for English-speaking volunteers wishing to participate in this project to have a minimum level in French, because a large majority of local volunteers and communities have a low level in English.
Ungefähre Lage: Situated 120 km north of Lomé, the commune of Kpalimé is the ideal place for nature lovers and hikers who wish to discover beautiful mountainous landscapes and tropical flora. Numerous natural waterfalls will allow you to refresh yourself at the water's edge. Kpalimé is also home to the most important craft center of the country where a very large number of artists and craftsmen have settled. With about 101 088 inhabitants, Kpalimé is a tourist town in the Plateaux region. Chief-place of the Kloto prefecture,
Bemerkungen: If the volunteer's flight arrives during the night in Lomé; the volunteer is requested to make sure to spend the first night in a hotel in the capital. For the safety of the volunteers, our organization prohibits any night transport to the project site. Our colleague who is in charge of the reception of the volunteers can offer him/her a hotel room which costs a maximum of 15 euros.