Give a new lease of life to a secondary school
Dieses Projekt ist Teil des SCI Nord-Süd-Austausch. Freiwillige sollten Erfahrungen mit Freiwilligenarbeit haben und an einem Vorbereitungsseminar teilnehmen. Genauere Informationen erhältst du hier: http://www.sci-d.de/workcamps-im-globalen-sueden

Thema:
3: International solidarity
Work Types:
manuelle Arbeit / Restauration, Renovierung / sozialer Bereich
Anzahl an Freiwilligen:
10
Free places for Males:
10
Free places for Females:
10
Letztes Update der freien Plätze:
08 Jul 2020
Alter für internationale Freiwillige:
18 - 99
Alter für Freiwillige aus dem Land:
16 - 99
Zusatzgebühr, die an die Partnerorganisation im Gastland zu entrichten ist:
100.00 Euro
Breakdown:
Unterkunft und Verpflegung: 0.00 Euro
Transport: 0.00 Euro
Aktivitäten: 0.00 Euro
Unterstützung der Gastgeberorganisation: 100 Euro
Weitere im Camp gesprochene Sprachen:
Englisch, Französisch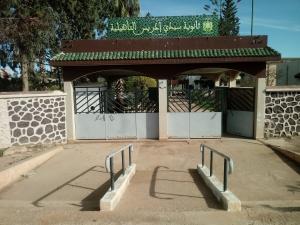 Beschreibung: Come and live an unforgettable experience by participating in the renovation and reorganisation of Sidi Driss secondary school. You will be immersed in the Moroccan culture and more widely the oriental culture. You will actively help to improve the schooling conditions of future students, you will help to make sure that the secondary school meets their aspiration and become a source of pedagogical influence that fosters and develops their learning and creative skills. You will have many opportunities to get involved in the local community life through your participation in different games and activities organised by the Nasr socio-cultural center.
Art der Arbeit: With the help of other volunteers, you will spend be renovating or rearranging Sidi Driss secondary school in the morning (gardening, tiling, painting…). The rest of the time, you will be participating in games and activities organised with and for the beneficiaries of Nasr socio-cultural center, located 1à minutes away from the international workcamp, and also discovering the breathtaking city's landscapes. All along this international project, a local team will always be beside you and available to accompany and supervise you in every activity in order to have a great time and ensure a good intercultural exchange.
Studienteil: Intercultural exchange, community life in a socio-cultural center welcoming and accompanying refugees.
Unterkunft: You will be hosted in the association "EVO" reception area within the Nasr socio-cultural and sport center, which is located 10 minutes away from the international workcamp.
Campsprache: French, Arabic
Voraussetzungen: More information soon
Ungefähre Lage: Oujda, Morocco
Bemerkungen: More information soon