Environment & Art - Reykjavík Arts Festival
Thema:
10: Environment protection
Work Types:
Kunst / Umwelt
Anzahl an Freiwilligen:
12
Anzahl an freien Plätzen:
0
Letztes Update der freien Plätze:
09 Apr 2021
Alter für internationale Freiwillige:
18 - 99
Alter für Freiwillige aus dem Land:
18 - 99
Zusatzgebühr, die an die Partnerorganisation im Gastland zu entrichten ist:
300.00 Euro
Breakdown:
Unterkunft und Verpflegung: 240.00 Euro
Transport: 20.00 Euro
Aktivitäten: 40.00 Euro
Unterstützung der Gastgeberorganisation: 0 Euro
Purpose of extra costs:
Participation/Extra fees support the ongoing work of SEEDS. For this particular camp, the fees are used for provision of food and accommodation, some extra free time activities & transport from the meeting point.
Weitere im Camp gesprochene Sprachen:
Englisch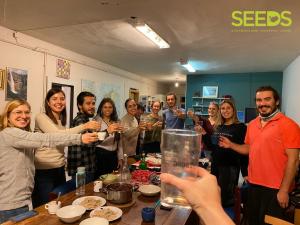 Beschreibung: This volunteer and arts project is an organised cooperation between the Reykjavik Art Festival and SEEDS. With the support of the volunteers we will run one of the biggest environmental art pieces of the year: Sun & Sea (Marina). The work is a Lithuanian opera performance, winner of the Golden Lion at the Venice Biennale 2019. It is a live opera installation without beginning or end that takes place on a well-visited beach under an artificial sun. The show addresses some of the most pressing issues of sustainability and ecology of our time and gives a shocking picture of today's consumer society.
Art der Arbeit: The work will be set up in the Reykjavík Art Museum that is located in the center of Reykjavík. The volunteers will help to set up the beach that will be made of black Icelandic sand in the museum and to take it down after the event. The volunteers will be invited to watch the show and will have the opportunity to participate as actors. Volunteers will also have the chance to join other environmental-related activities, through non-formal means such as workshops, discussions, presentations & visits, as well as to contribute directly to environment protection by joining outdoor cleanup tasks. Volunteers should prepare to share environmental issues from their countries and be ready to spend time outdoors, walk medium distances during the cleanups, as during other activities & sightseeing.
Studienteil: As part of the project happens outdoors, volunteers should be ready to adapt and be flexible with the work and free-time schedule, as depending on the changeable weather, we may not be able to perform some of the activities planned.
Volunteers will also have the chance to join other environmental-related activities, through non-formal means such as workshops, discussions, presentations and visits, as well as to contribute directly to environment protection by joining outdoor cleanup tasks.
Unterkunft: SEEDS participants will stay in a house in Reykjavík. The facilities are basic with showers, washing machine, kitchen and everyone is expected to show consideration for their companions. Participants will sleep in shared/dormitory rooms in a sleeping bag accommodation. Please bring your own sleeping bag. Volunteers will receive food supplies and will be in charge of the cooking and cleaning. Please note the food SEEDS provides will be vegetarian. Do not forget some traditional/typical food, drinks, recipes, music, games or movies from your country for the international evening.
Campsprache: English will be the language in the camp; intermediate conversational skills are needed.
Voraussetzungen: Participation fee EUR 300 (Euros). The fee can either be transferred in advance via bank transfer, or paid in cash on arrival. It includes transportation from the meeting point to the camp (on the first day), the visits available; and one trip combined with the trash collection activity (Hot River or Reykjanes).
Ungefähre Lage: Reykjavík is a dynamic, modern city which lives in harmony with beautiful nature, using renewable energy sources. The world's northernmost capital bridges the Atlantic, between Europe and North America. Reykjavík is spread across a peninsula with a panoramic view of the mountains and the Atlantic on almost all sides. It is an international city with a lively cosmopolitan cultural scene surrounded by beautiful nature.
Bemerkungen: Other excursions (e.g. Golden Circle, the South Shore, Reykjanes and/or Snæfellsnes) can be arranged at discount fares if there is additional free time after the camp work/sessions. It may be very cold and/or rainy, so we recommend bringing warm and waterproof clothes (underlayers, overcoats, scarves, gloves and hats) and good walking shoes, as some of the activities take place outdoors.
Organization Description: SEEDS is an Icelandic non-governmental, non-profit volunteer organisation designed to promote intercultural understanding, environmental protection and awareness through work on environmental, social and cultural projects within Iceland. SEEDS works closely with local communities, local authorities and other Icelandic associations both to develop projects in partnership, aimed at fulfilling an identified need, and to give assistance to established initiatives. Projects are designed to be mutually beneficial to all involved: the volunteers, the local hosting communities and Iceland as a whole. Every year host more than 1200 international volunteers from 50 to 60 different countries.