Mangrove for Java Pekalongan
This project is part of the SCI North South Programmes. Volunteers should be 20 years old, have previous volunteering experience and take part in the Preparation Workshops organised by their sending branch. More details from your sending branch.

Topic:
10: Environment protection
Work Types:
Environment / Manual
Number of places still available:
7
Free places last update:
29 oct 2018
International age:
18 - 70
Extra fee to be paid in the hosting country:
2950000.00 Indonesian Rupiah
Purpose of extra costs:
1. Project Material during Workcamp 2. Accommodation in a homestay during Workcamp 3. Transportation from (only from MEETING POINT to PROJECT SITE and VICE VERSA at the scheduled time by our campleaders) 4. Transportation during Workcamp 5. Meals 3x during workcamp (EXCLUDE 1 day during Free Day/Excursion) 6. GREAT T-Shirt, Hospitality for Local Partner/People 7. Management for GREAT for Camp Leaders Training, Camp Leaders Transportation and Communication, Local Members Trainings and Workshops, Project Development, Staff Salary, GREAT Office Needs, Volunteer Houses Rent, and GREAT Saving
Required Language:
Anglès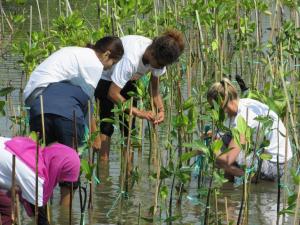 Description: Mangrove for Java is a project targeting endangers villages or area located in coastal cities and regencies in Java Island. This project is a sustainable project organized by GREAT in cooperation with local fisher and farmer communities since 2015 to answering the needs of preserving the coastal side of Java Island. Java coastal area is one of the directed affected by global climate change among many of islands in the world. The project is preserving natural diversity and sea shore from the erosion because of significantly mangrove cutting in the 70's-80s along with strong waves from the ocean.
Previous workcamps Mangrove for Java Pekalongan can be viewed here: https://www.youtube.com/watch?v=HzFwrhYXdRg
Type of Work: Planting mangrove and other trees in beach, sharing about environment education to local people and children, conducting school visits and universities for environment education, running a green campaign in city centre, and learning to process the mangrove fruits to be snacks or foods and promoting it.
Study Theme: Mangrove and its ecosystem from the Mangrove Information Center – Pekalongan.
Accommodation: House of local people. Volunteers will share together sleeping space separately between females and males. No bed. Need sleeping bag. Sharing bathroom.
Self cooking by the volunteers. Volunteers will make common rules, daily cooking team, cleaning team and washing team and any additional needs together for their collective living group.
Language: English with other volunteers. Bahasa Indonesia with locals
Requirements: Strong motivation and interest in environment conservation especially tropical - coastal area.
Approximate Location: Pekalongan City, Central Java, Indonesia.
Notes: Weather can be up to 40 degree Celsius with 80% humidit. Less hygiene condition of slum coastal area. Bring some ideas for environment education (especially about mangrove and how to take care of it) and Olympic games for environment education for small children aged from 6-12 and teenagers.