This project is part of the SCI North South Programmes. Volunteers should be 20 years old, have previous volunteering experience and take part in the Preparation Workshops organised by their sending branch. More details from your sending branch.

Country:
Palestinian Territory, Occupied
Topic:
13: Community life
Work Types:
Language study / Social / Study, discussion, research
Free places for Females:
7
Free places last update:
26 març 2018
International age:
18 - 99
Extra fee to be paid in the hosting country:
450.00 US Dollar
Purpose of extra costs:
$450 USD per person The fee includes: – Food (Three meals a day) – Accommodation. – Local transportation for trips across the West Bank and from Tel Aviv Airport and trips. – Administrative cost. – Health Insurance. Airfare: Airfare is not provided by Zajel Camp Program. It is expected that flight ticket is arranged by participants of the Program. Prices vary, so it is best to book your flights early.
Required Language:
Anglès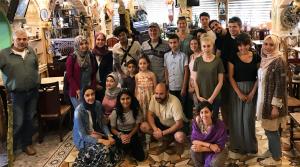 Description: The Camp will offer the opportunity for the international volunteers to give training workshops on capacity building for the Palestinian students. In addition, the camp includes visits to the different Palestinian associations, cities, refugee camps, villages and the desert. The program also includes some lectures about different fields and issues of the Middle East conflict. For more info, kindly click here: http://youth.najah.edu/workcamps/this-years-camps/taking-you-forward/
Type of Work: Training and event management Through international solidarity work and skill sharing, it is possible to help empower young Palestinians to create a better reality for themselves. We try to provide as many positive options as we can, recognizing that many international volunteers have good qualifications and skills to share with our local students, (which is not a must) as well as, a willingness to provide assistance. Here is an outline of the workshops comprising this section of the camp, you can select the topic you prefer. (Optional).
Study Theme: The Program's primary objective is to provide a common ground for education and enlightenment through a set of topics that cover major aspects of the Palestinian cause and its people. The Program also seeks to provide a space to share knowledge and expertise between international and local students. The Program will provide a suitable venue to foster the exchange of ideas and cultures, as well as, to bridge the gap of misunderstanding and misconception.
Accommodation: Zajel will be responsible for providing suitable accommodation for the participants at special apartment-dorms outside the campus: the Program will be in charge of the transportation to and from the apartments.
Language: english
Requirements: The Camp will bring together people who are interested in helping to create a better world. We are looking for those who seek a unique and informative experience of Palestine. We are also targeting those who are willing to volunteer for our capacity building project by volunteering for two or four hours a day. The Program is intended to involve lots of interaction with our local participants.
Approximate Location: Zajel Youth Exchange Program
Public Relations Department
An-Najah National University
Nablus, Palestine
youthexchange@najah.edu
zajel.camp@gmail.com
Tel: 0097092345113
Ext: 2201
Mobile: 00970592444817
Fax: 0097092345982
Notes: You can read the reflections of the former volunteers who attended our exchange workcamps by clicking here; https://goo.gl/AXmpV9 while you can see some recorded interview with international volunteers by visiting this link: https://goo.gl/ftgo6C . You can read the reports of the previous international work camps by visiting this link: https://goo.gl/11teT4 . Seeing this documentary will also give you an idea about what to expect during the voluntary work camps of Zajel: https://youtu.be/En7rKlyMEFk .