This project is part of the SCI North South Programmes. Volunteers should be 20 years old, have previous volunteering experience and take part in the Preparation Workshops organised by their sending branch. More details from your sending branch.

Country:
Palestinian Territory, Occupied
Topic:
3: International solidarity
Special Topics:
No more war!
Options:
Mixed Age Camp
Wheelchair Accessible
Work Types:
Teaching / Language study / Study, discussion, research
Number of places still available:
15
Free places last update:
13 gen 2020
International age:
18 - 99
Extra fee to be paid in the hosting country:
450.00 US Dollar [385 Euro]
Breakdown:
Accommodation and food: 0.00 US Dollar
Transportation: 0.00 US Dollar
Activities: 0.00 US Dollar
Hosting organisation support: 450 US Dollar
Purpose of extra costs:
Fee: $450 Per person The fee includes: Food (Three meals a day) Local transportation for trips across the West Bank and from Tel Aviv Airport and trips. Administrative cost. Health Insurance. Airfare: Airfare is not provided by Zajel Camp Program. It is expected that flight ticket is arranged by participants of the Program. Prices vary, so it is best to book your flights early.
Required Language:
Anglès
Child friendly camp
Sí (Minimum age: 15)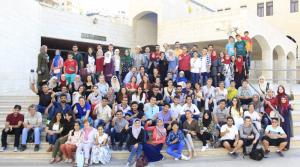 Description: An-Najah National University in Nablus-Palestine is pleased to announce an International Camp Program for 2019. Facilitated by Zajel Youth Exchange Program of the Public Relations Department that will host a two weeks long voluntary project. Zajel Program kindly invites people from across the world to explore this opportunity and to engage culturally and socially with people of Palestine. Zajel is the Arabic word for a carrier pigeon: a symbol of communication and a symbol of peace. The Zajel Program offers a peaceful way by which Palestinian youth can be part of their cause. We seek to answer the misunderstanding and unawareness of people in the West, by representing Palestinian youth in a positive way and by acting as ambassadors for the Palestinian cause.
Type of Work: Through international solidarity work and skill sharing, it is possible to help empower young Palestinians to create a better reality for themselves by giving them some training workshops in different fields.. We try to provide as many positive options as we can, recognizing that many international volunteers have good qualifications and skills to share with our local students, (which is not a must) as well as, a willingness to provide assistance. Here is some titles of the training workshops comprising this section of the camp, you can select the topic you prefer. (Optional).
Public Speaking -Social Media: - Film Production and Editing - English Conversation - Debating Skills - Communication Skills- Capacity/ Competency Building/ Communication Skills -
Study Theme: The camp includes visits to the different Palestinian associations, cities, refugee camps, villages and the desert. The program also includes some lectures about different fields and issues of the Middle East conflict.
Accommodation: Zajel will be responsible for providing suitable accommodation for the participants at special apartment-dorms outside the campus: The Program will be in charge of the transportation to and from the apartments.
Language: English
Requirements: Open to everybody who is willing to volunteer for our students and give them some training workshops to empower their skills and build their capacities
Approximate Location: Zajel Youth Exchange Program
Public Relations Department
An-Najah National University
Nablus, Palestine
Notes: Kindly visit this link for more data: https://youth.najah.edu/workcamps/this-years-camps/shine-a-ight/