Connecting Human Through Essence of Language
This project is part of the SCI North South Programmes. Volunteers should be 20 years old, have previous volunteering experience and take part in the Preparation Workshops organised by their sending branch. More details from your sending branch.

Topic:
7: Children and youth
Work Types:
Work with children / Language study / Manual
Free places for Females:
5
Free places last update:
14 gen 2019
International age:
18 - 99
Extra fee to be paid in the hosting country:
150.00 Euro
Breakdown:
Accommodation and food: 0.00 Euro
Transportation: 0.00 Euro
Activities: 0.00 Euro
Hosting organisation support: 150 Euro
Required Language:
Anglès
Child friendly camp
Sí (Minimum age: 0)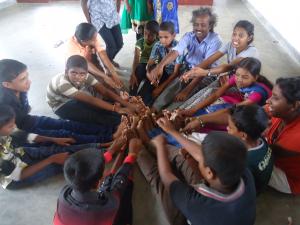 Description: The Muttur Peace Center is one of local partners of SCI Sri Lanka locates in Trincomalee District which was founded in 2009 and Muttur is a rural area in the northeast of Sri Lanka. The region was affected by three decades of civil war and suffered a devastating tsunami in 2004 resulting major causalities and damages. The Muttur Peace center promotes social and cultural development and peace through intercultural exchange with various projects. This year SCI Sri Lanka decided to organize a work camp integrating with ongoing "Link Language Program" and the main purpose of this project is to connect people through different languages. Above all learn, exchange and experience the multicultural differences among the participants and local community.
Type of Work: The main task for volunteers will be teaching and sharing languages with school children through game-based learning methods by using fun activities, group or team competitions to make learning fun, motivates students and helps them pay attention and stay focused. After school sessions in the morning volunteers would participate in various community projects, beach cleaning, tree planting around the area involving neighbors and local youth. Furthermore volunteers will get an opportunity to learn about local village culture, experience the countryside, and discover local history and traditions as a part of multicultural learning and exchange
Study Theme: Connect people through different languages.
Accommodation: Participants will stay in Peace Center in Mutur with basic living condition and shared sleeping spaces are separated for males and females. Volunteers will sleep together on the floor mats. Water and bathing facilities are satisfactory, clothes should be hand-washed. No internet access at the peace center.
Language: Sinhala, Tamil and English will be spoken among the local volunteers and the community. More or less everyone speaks English.
Requirements: Who enjoy working with children and local youth.
Approximate Location: Muttur Peace Center – Muttur or Mutur is a town in Eastern Sri Lanka of Trincomalee District and it is located about 25 km South of Trincomalee on the Southern side of the Trincomalee Harbour. It is home to major Sri Lankan naval bases and a Sri Lankan Air Force base and considered a very sacred place by the Tamil and Sinhalese. Trincomalee and its surroundings have both Hindu and Buddhist sites of historical importance. The weather in August is slightly dry with sporadic rain and average temperature in Trincomalee district is very hot at 29.4 °C.
Notes: Teaching materials to use during language sessions (native language or other) with children, Musical instruments to entertain, any games to play with children and other volunteers. A hat, pair of sunglasses as well as mosquito repellent to avoid mosquito bites and sun protection cream, Lightweight cotton clothing is the most suitable for the climate, working clothes and shoes to work in the field and bringing a waterproof rain jacket since it will be raining some days. A sleeping bag or a blanket will be necessary. Bring information about your country/culture and pocket money for your personal expenses.