Detalls del camp de treball
WAFEst – festival of elements
Country:
Russian Federation
Topic:
12: Art, culture and local history
Work Types:
Art / Construction / Festival
Free places for Females:
0
Free places last update:
07 juny 2019
International age:
18 - 99
Required Language:
Anglès
Spoken Language:
Anglès, Rus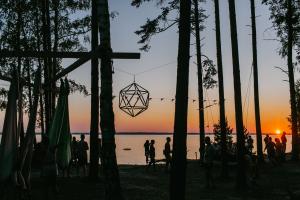 Description: WAFEst is a Water-Air-Fire-Earth-Festival at the Gorky Reservoir in the Nizhny Novgorod region, that will take place for eighth time! Main theme of the event this year is "Infinity". The element of Water will bring classes in Windsurfing and kite surfing, and boat trips Thanks to the element of Air guests and participants will enjoy music with open-air concerts, jam-sessions and live shows with ethnic music, reggae, funk and boogie-woogie. Fire will show its beauty in the hands of true professionals and masters of the fire-show. The element of Earth stands for more than 20 creative spaces, each with its own unique atmosphere: open workshops, yoga classes, theater, children playgrounds and many others. Plus to this, interregional hand-made fair and food-court in the forest glade!
Type of Work: International volunteers will work together with local volunteers. Two main areas of work with respective activities. Eco-volunteering: preparation of the festival area for guests, cleaning food courts, cleaning the territory during and after the festival. Designing of the festival space: painting and decoration of stationary objects in the camp, creating and constructing of art-objects, etc. All necessary tools will be provided.
Study Theme: Volunteers can participate in all activities, workshops (like playing traditional music instruments, art painting, dances, basics for fire-shows, etc.) and shows offered by the festival during their free time. Trips to nearby cities (Gorodets and Nizhny Novgorod) will be organised.
Accommodation: Camping site, tents will be provided by the host (recommended to take your own sleeping bag and mat, though if necessary they can be provided as well). Volunteers can use common summer showers, Russian sauna – "banya". Three meals, only VEGETARIAN menu.
Language: English. It will be possible to practice your Russian (or learn some) with local volunteers!
Requirements: Creative, open-minded and active volunteers, who share the values of the festival, are warmly welcome! We will be happy to see a small answer about the system of collecting garbage in your country on your VEF.
Approximate Location: Nizhny Novgorod region, territory of the surf-camp "FreeDom" at the Gorky Reservoir.
Notes: Dates of the festival: 4th to 7th of July 2019. It is also possible to join the workcamp from July, 2 to July, 10. WAFEst is a preserved area, where alcohol and drugs are prohibited. Smoking is possible only in designated areas.
WAFEst 2016: https://www.youtube.com/watch?v=XTtKuwmlKWo WAFEst 2018: https://www.youtube.com/watch?v=Pr3mMpVSx5o
Organization Description: Non-governmental and non-profit making organisation "Passage-Zebra" is active in Russia since 1998. Main fields of activities: international workcamps (in Russia), long-term volunteering in natural preserves and parks, study projects with language learning and teaching (including Russian language), building cultural bridges.