Queer Youth Festival Lila (Zürich ZH)
Topic:
6: Gender equality and sexuality
Work Types:
Art / Festival
Number of places still available:
1
Free places last update:
07 oct 2019
International age:
18 - 99
Required Language:
Anglès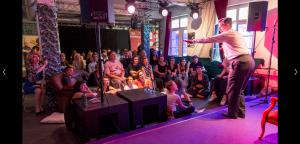 Description: Milchjugend is a Swiss youth organization for lesbian, gay, bisexual, trans* and other young people who create spaces for themselves and their friends through conscious action. Young people are given the opportunity to express themselves, get to know each other and gain confidence. Milchjugend is going to organize a big festival for the 3rd time. The artists will explore gender, body and identity. Different forms of queer artistic creation interact with each other and a young crowd. Dance and performance art presented in a more intimate and connected venue will also have its place. The festival venue (a cultural centre at the outskirts of Zurich) will be transformed into a vibrant space of culture. Various artistic interventions will surprise, fascinate, irritate and excite the visitors.
Type of Work: You will help to set up the stage, the infrastructure and decorations for the festival, as well as dismantling the above-named things after the festival. Furthermore, you will assume various tasks during the festival itself. These tasks include assisting at the bar, helping with the electronic infrastructure, looking after the artists, doing some cleaning work, etc. You might have to work some hours at night during the festival.
Study Theme: You will participate in a workshop where the organization «Milchjugend» and all our projects will be presented. We will also talk about gender, sexuality, intersectionality and our mission to fight for a better world where everyone is allowed to be who they are. Of course this is not like a lesson at school – you are invited to discuss with us and develop our ideas.
Accommodation: The SCI volunteers will be accommodated in the apartments of our resident organisers - you can use the facilities there. Not all SCI volunteers will sleep in the same accommodation, but still spend the days together. Bring your own sleeping bag.
Language: The required camp language will be English, and the local spoken language is Swiss German.
Notes: • Milchjugend is an LGBT organization. Volunteers who participate in this workcamp should be part of the LGBT community or allies (but we welcome everybody who is open-minded). • There are no specific leisure activities planned, but you will be able to attend the festival for free. • Because the festival takes place from Friday to Sunday work during the weekend will be required, but that will make it possible to attend the festival.
Organization Description: SCI Switzerland is a non-profit organisation which promotes intercultural exchange, sustainable development and non-violent conflict resolution. It has been organizing workcamps and long-term exchanges for volunteers worldwide since 1920. Each year more than 100 volunteers from Switzerland engage in SCI projects abroad, while around 200 international volunteers participate in projects in Switzerland. SCI Switzerland is certified by the Intermundo quality label, which guarantees high quality standards in youth exchange. Swiss workcamps are mainly focused on the work with youth as well as in the area of environmental protection. That is why among SCI Switzerland`s values is also an environmentally friendly lifestyle in accordance with the ideas of sustainable development. Volunteers are encouraged to be eco-friendly, especially when travelling to Switzerland and during the projects. Before applying be aware of high travel costs within Switzerland and check prices on the railway website www.sbb.ch. A participation in the camp from the first until the last day is needed for reason of instruction and group dynamic.